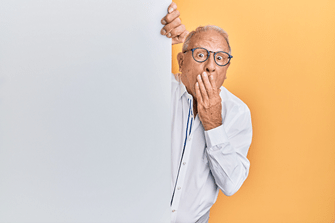 Tired of seeing brown spots and wrinkles when you look in the mirror? The signs of aging can creep up on you over time, with facial lines that were once light and barely visible, developing into deeper, more obvious wrinkles over the course of just a few years.
One of the more effective and affordable anti-aging medications available today is tretinoin — a topical retinoid that can reduce the visibility of wrinkles, liver spots, skin discoloration and other signs of aging.
What Is Tretinoin?
Tretinoin is a topical retinoid, meaning it is a medication that is derived from vitamin A.
In 1971, the first retinoid – tretinoin – was FDA approved (under the brand name Retin-A) as a prescription acne treatment.
Dermatologists soon noticed that patients on Retin-A experienced not just clearer skin but also softer, brighter, and less-lined skin.
In 1995, topical tretinoin was approved by the FDA for the palliation of fine wrinkles, mottled hyperpigmentation, and tactile roughness of facial photodamage.
How Tretinoin Treats Wrinkles and Signs of Aging?
As we get older, our bodies begin to produce new skin cells at a slower speed.
For example, an individual in their 20s might complete a new skin cell cycle every month, while someone in their 40s or 50s could take around two months to complete a full skin cell turnover.
The longer your skin cells are exposed to sunlight and air, the greater the effects of photoaging — the process through which your skin starts to develop wrinkles, smile lines and other signs of aging.
By stimulating skin cell turnover and exfoliating the layers of your skin that are exposed to direct sunlight, tretinoin plays a powerful role in slowing down and reversing the development of lines, wrinkles, and discoloration.
Do I Need A Prescription for Tretinoin, Retinol or other anti-aging Retinoids medications?
All tretinoin products are available by prescription only, in the United States, meaning you'll need to talk to your doctor before being able to buy tretinoin cream in any concentration.
Retinoids are a group of compounds derived from vitamin A. However, tretinoin is not the only topical retinoid available.
Today there are three prescription-strength retinoids: tretinoin, adapalene (Differin), and tazarotene (Avage, Tazorac).
Adapalene is the gentlest but may be less effective.
Many dermatologists find tazarotene to be stronger and potentially more irritating than tretinoin.
Retinol is in over the counter (OTC) products and is a weaker retinoid. The skin tolerates it well and does not generally dry out. However, retinol may not offer enough benefits to the skin.
Retinaldehyde, another OTC retinoid, is stronger than retinol but not as powerful as prescription retinoids. It is found in anti-aging skincare products.

Retin-A Vs. Tretinoin
It is confusing when your dermatologist tells you that you'll be using Retin-A, but the pharmacist hands you a tube of tretinoin.
Not to worry, you have got the medication you are supposed to have. Retin-A is the brand name for a prescription retinoid. Its generic name is tretinoin.
Retin-A is not the only prescription medication that utilizes tretinoin as the active ingredient. Other brands that contain tretinoin include: Retin-A Micro, Renova, Stieva A Cream, Atralin, Avita.
Compare Prices Between Brand and Generic Tretinoin And See the Cost Savings!
How Long Does Tretinoin Take to Work on Brown Spots and Wrinkles?
While the anti-aging and wrinkle reduction benefits of tretinoin are real, they are not an overnight effect.
On average, it takes anywhere from eight to 24 weeks to see a noticeable improvement from tretinoin cream.
Your Skin May Look Worse Before It Improves
Tretinoin, as well as other topical retinoids, are well known for causing a "purge" during the first few weeks of treatment.
While your skin adjusts to tretinoin, it is not uncommon to experience a high level of dryness, as well as issues such as skin peeling and irritation.
These effects are temporary and usually occur as part of a two to six week adjustment period in which your skin gets used to the effects of tretinoin. They rarely last for longer than two months and almost always resolve on their own, meaning there is usually no reason to be concerned.
You can also use moisturizer to deal with the dryness and peeling that can occur during the first few weeks of using tretinoin.
Start by Choosing the Right Strength of Tretinoin Cream
Tretinoin comes in a range of different concentrations, from creams and gels with 0.01%, 0.025%, 0.05% tretinoin content, to stronger products with 0.1% tretinoin.
For the most part, dermatologists tend to prescribe a 0.05% tretinoin cream for patients, which provides a good balance between optimal results and a tolerable level of side effects.
For folks with sensitive skin, dermatologists recommend start low and go slow to train your skin with tretinoin.
If you have lasting dryness, peeling or other side effects after starting tretinoin that do not heal on their own after two to three months, the best option is to talk to your dermatologist about using a lower concentration of tretinoin.
Tips for Getting the Most Out of Tretinoin
Here is what Dr. Cynthia Bailey tells her patients:
Always apply tretinoin to your skin at bedtime. Never use it during the day.
It is critically important for anyone using any retinoid to take the strongest precautions in the sun.
Never layer tretinoin with benzoyl peroxide and ideally don't apply it when you also have some of the popular acid products on your skin such as vitamin C or salicylic acid. However, glycolic acid and tretinoin are compatible.
Always wait at least 15-30 minutes after cleansing and applying any other skin care products to your skin before you apply tretinoin to help reduce peeling and dryness.
Anyone who is or may be pregnant should not use tretinoin.
Tretinoin-treated skin is very exfoliated and should not be waxed for hair removal.
Where to Buy Tretinoin?
Once you get a prescription, you can buy tretinoin from your local community pharmacies. However, tretinoin medication are also available from Canadian mail order pharmacies.
Cheapomeds.com carries safe and affordable tretinoin medications, including both manufactured standard commercial products and compounded ointment.
Compare Prices Between Brand and Generic Tretinoin And See the Cost Savings!
As an international online prescription referral service, cheapomeds.com is certified by CIPA (Canadian International Pharmacy Association). It can source medications from the international market, and the international price can be much cheaper than your local medications.
But cheap does not mean low quality! The products dispensed by our pharmacy partners are tightly regulated and adhere to the standards required by their local and national regulatory agencies.
References:
Webmd.com
Forhims.com
Verywellhealth.com
Dearbrightly.com
drbaileyskincare.com
Related Articles:
This article is sponsored by CheapoMeds. If you have questions about your prescription medications or any other medication, please contact our team at CheapoMeds by calling toll free 1-844-4CHEAPO (424-3276). One of our patient representatives will be happy to assist you or transfer you to a licensed Canadian pharmacist for a free consultation.
This article contains medical information provided to help you better understand this medical condition or process and may contain information about medication often used as part of a treatment plan prescribed by a doctor. It is not intended to be used as either a diagnosis or recommendation for treatment of your medical situation. If you are unwell, concerned about your physical or mental state, or are experiencing symptoms you should speak with your doctor or primary health care provider. If you are in medical distress, please contact emergency services (such as 911).