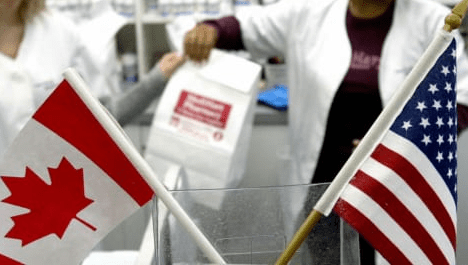 With U.S. Border Closures by Covid-19, How Will Americans Afford Prescription Medication?
The U.S. borders to both Mexico and Canada will remain closed to nonessential travel until at least September 21 and this timeline may be extended again by then. This is primarily in connection with the US-Canada border that has never been closed in the history of their relations.
How Many Americans Cross Border to Buy Medications?
The U.S. International Trade Commission estimates that more than 952,000 Californians travel to Mexico each year for health care, including for prescription medications.
While the National Health Interview Survey based on a 2015–2017 data had found out that 1.5 percent Americans depended on cross border supply of treatment; that may not seem like a lot, but it amounts to almost 2.3 million people.
However, now that the U.S.'s northern and southern borders have closed to nonessential travel as a result of the Covid-19 pandemic, lifelines to affordable medicine in Mexico in Canada have effectively been cut off.
Why Do Americans Go Shopping Abroad for Medications?
Research confirms that many medications in Canada and Mexico are much cheaper than the same available in America itself.
An analysis found that U.S. consumers, on average, would save 76 percent on the cost of brand-name medications made in America if they purchased those medications from international online pharmacies instead of in the U.S.
The reason prescription medications cost less in Canada is because a federal agency sets the maximum price a company can charge for patented medications. In the U.S., pharmaceutical companies are allowed to decide.
Is It Legal to Import Your Medications from A Canadian Pharmacy?
The Food and Drug Administration website states that in most cases importing medications for personal use is illegal. For example, if a drug is approved by Health Canada (FDA's counterpart in Canada) but has not been approved by FDA, it is an unapproved drug in the United States and, therefore, illegal to import. FDA cannot ensure the safety and effectiveness of drugs that it has not approved.
However, Canadian mail order pharmacies generally have no trouble shipping medication to you. In their experience the FDA typically does not object to the personal importation of medications that are not FDA approved when they are shipped via regular mail or tracked mail and do not exceed a 90-day supply. (These medications are not allowed to contain controlled substances or narcotics.) In fact, these Canadian mail order pharmacies are so successful, an organization has been created to assist in providing a list of certified and safe pharmacies to order from. The Canadian International Pharmacy Association (CIPA) is your source for information about safe online pharmacy websites that are licensed, certified, and trusted.
Is Ordering Prescriptions Safe from A Canadian Online Pharmacy?
Ordering prescriptions online is safe, as long as it is being done through a website that is approved by the Canadian International Pharmacy Association (CIPA), established in 2002. CIPA is a Canadian association of licensed pharmacy businesses offering mail order pharmacy services to Canadian and international markets.
How to Tell If You Are Dealing with A Safe Canadian Online Pharmacy
Your online pharmacy from Canada may be legitimate if it:
Requires a valid prescription from a physician or other health practitioner licensed to practice in Canada.
Is licensed by a provincial or territorial pharmacy regulatory authority in Canada
Has Canadian-licensed pharmacist available to answer questions
Provides a street address located in Canada
Approved by CIPA
For example, cheapomeds.com is certified by CIPA. They work with licensed pharmacy partners and have been providing safe and affordable prescription medications to Americans for years.
What Medications Can I Get from Canadian Online Pharmacy?
They provide thousands of medications, brand name or generic products.
For example:
How do Americans buy cheaper Canadian medications?
In order to buy a Canadian pharmaceutical from a licensed online Canadian pharmacy, you will need a prescription from a physician licensed in Canada. The most common way Americans can get a valid prescription is by getting it from a U.S. doctor, submitting it to the licensed Canadian online pharmacy and a Canadian physician will review and, if acceptable, will sign off on it and have it filled by the Canadian pharmacy.
The Canadian online pharmacies accept prescriptions by phone, fax, email or you can upload them via their website. Alternatively, they are well prepared to contact your doctor directly for authorization on a new prescription or renewal – by phone or by fax.
Reference:
medium.com
khn.org
retailmenot.com
Canada.ca
cnn.com
This article is sponsored by CheapoMeds. If you have questions about your prescription medications or any other medication, please contact our team at CheapoMeds by calling toll free 1-844-4CHEAPO (424-3276). One of our patient representatives will be happy to assist you or transfer you to a licensed Canadian pharmacist for a free consultation.
This article contains medical information provided to help you better understand this medical condition or process and may contain information about medication often used as part of a treatment plan prescribed by a doctor. It is not intended to be used as either a diagnosis or recommendation for treatment of your medical situation. If you are unwell, concerned about your physical or mental state, or are experiencing symptoms you should speak with your doctor or primary health care provider. If you are in medical distress, please contact emergency services (such as 911).