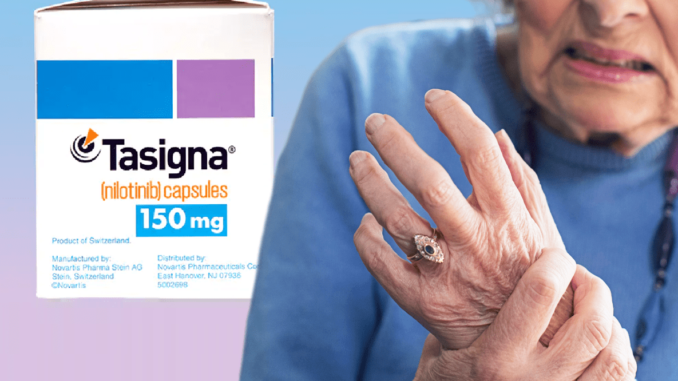 Tasigna (nilotinib), an approved leukemia medication was being tested as a repurposed treatment for Parkinson's disease (PD) in a small pilot study in 2016. This study found Tasigna to be safe, as well as suggested an increase in the levels of dopamine in the brain of patients with advanced Parkinson's disease, and reported some improved motor symptoms. .
The 2016 paper sparked substantial interest in the Parkinson's community and patients have been seeking the drug. Tasigna is sometimes used for off label use with neurologists' prescriptions for patients with Parkinson's disease.
Subsequently, researchers from this preliminary study sought to further investigate the safety, tolerability, and efficiency of Tasigna in Parkinson's disease and phase 2 trials were carried out.
How Nilotinib Works?
Nilotinib is a type of biological therapy called a protein tyrosine kinase inhibitor (TKI). Tyrosine kinases are enzymes that act as chemical messengers, which can stimulate cancer cell growth.
In Parkinson's disease, nilotinib may work to eliminate toxic proteins that build up in the brain by activating a mechanism in brain cells that serves as a sort of garbage disposal unit.
The Pilot Study In 2016
A study in 12 individuals with advanced Parkinson's disease with dementia or dementia with Lewy bodies suggested that Tasigna was safe and tolerable in these patients. It also suggested that Tasigna could increase dopamine metabolism (its use in the brain) and lower alpha‐synuclein levels, thus, warranting the further study of the effectiveness of Tasigna in Parkinson's disease.
Phase II Study from Georgetown University: Positive
In the first study, published in December 2019 in JAMA Neurology, researchers at Georgetown University conducted a randomized trial in 75 moderately severe Parkinson's disease (PD) patients who received either a daily dose of 150 mg or 300 mg nilotinib, or placebo, for 12 months.
They reported that treatment was safe and well-tolerated, and biomarkers indicated an increase in dopamine metabolites in plasma and cerebrospinal fluid (CSF). There was also a significant decrease in CSF levels of hyper-phosphorylated tau and a significant decrease in oligomeric alpha-synuclein (but only with the 150 mg dose).
Phase II Study from Northwestern University: Negative
In mid-February, researchers with the Parkinson Study Group presented early results from another phase 2 Nilotinib-Parkinson's disease trial.
The results, which are in press for publication, show little evidence of nilotinib altering CSF dopamine or its metabolites, at either the 150 mg or 300 mg dose, in moderate PD patients at six months.
While the researchers found nilotinib to be safe and tolerable, it demonstrated no clinically nor biologically meaningful beneficial effect in Parkinson's disease.
Expert Commentary
However, the findings do not refute the hypothesis that c-Abl inhibitors have potential neuroprotective effect. Researchers think that Nilotinib may not be the best molecule to assess the therapeutic potential of c-Abl inhibition for Parkinson's disease, but the pathway is promising. There are other molecules in development that may have different outcomes.
IMPORTANT SAFETY INFORMATION ABOUT Tasigna® (Nilotinib) Capsules:
QTc Prolongation and Sudden Death:
Tasigna can cause QTc prolongation, a possibly life-threatening heart problem. QTc prolongation causes an irregular heartbeat, which may lead to sudden death. Call your doctor right away if you feel lightheaded, faint, or have an irregular heartbeat while taking Tasigna. These can be symptoms of QTc prolongation.
Your doctor should check your heart with a test called an electrocardiogram (ECG)
Do not take Tasigna if you have long QTc syndrome or low levels of potassium or magnesium in your blood
Tasigna can interact with many medicines and supplements. This may increase your chances for serious and life-threatening side effects. Do not take any other medicine while taking Tasigna unless your doctor tells you it is okay to do so
Food and grapefruit products increase the amount of Tasigna in your body. This may increase your chances for serious and life-threatening side effects. Take Tasigna on an empty stomach

Avoid eating food for at least 2 hours before the dose is taken, and avoid eating food for at least 1 hour after the dose is taken

Avoid grapefruit, grapefruit juice, and any supplement containing grapefruit extract while taking Tasigna
Reference:
lww.com
jamanetwork.com
parkinson.org
medpagetoday.com
This article is sponsored by CheapoMeds. If you have questions about your prescription medications or any other medication, please contact our team at CheapoMeds by calling toll free 1-844-4CHEAPO (424-3276). One of our patient representatives will be happy to assist you or transfer you to a licensed Canadian pharmacist for a free consultation.
This article contains medical information provided to help you better understand this medical condition or process and may contain information about medication often used as part of a treatment plan prescribed by a doctor. It is not intended to be used as either a diagnosis or recommendation for treatment of your medical situation. If you are unwell, concerned about your physical or mental state, or are experiencing symptoms you should speak with your doctor or primary health care provider. If you are in medical distress, please contact emergency services (such as 911).