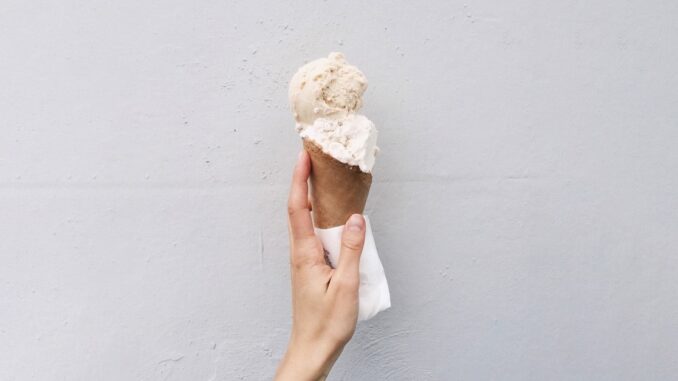 Are you on a Keto Diet? Do you still love the taste of vanilla ice cream? Well look no further! We have a Dairy-free vanilla ice cream recipe for you to try today!
Ingredients
6 large eggs yolks
1 cup coconut milk
1¼ cups unsweetened almond milk
1⁄3 cup xylitol
1⁄3 cup mild flavored oil avocado oil
2 tsp vanilla extract
1⁄8 tsp salt (optional)
instructions
In a heavy saucepan over low heat, heat the coconut milk and almond milk, stirring with a whisk. Add the egg yolks. Continue whisking on low heat until the custard begins to thicken.
Add the sweetener and whisk until completely dissolved. Continue heating, whisking constantly, until the custard thickens, about 10 minutes.
When the custard coats the back of a wooden spoon or reaches 140°F (60°C) on a thermometer, remove the pan from the heat. Do not allow the mixture to warm to over 140°F (60°C) or the eggs will begin to cook.
Add the oil, vanilla, salt, and mix together in a blender. Allow the ice cream to cool in the refrigerator.
When the ice cream mixture is cool, freeze in an ice cream maker, following the manufacturer's directions. Continue processing the ice cream until it is frozen or reaches your desired consistency. Store in the freezer.
Tips
Adding the oil to the mixture makes the ice cream super creamy and less icy. A mild flavored oil such as avocado or Manzanilla olive oil works well. A nut oil such as almond oil, walnut, or hazelnut oil add a fantastic flavor too.
If you aren't concerned about eating raw eggs, you can skip heating the eggs and sweetener and toss all of the ingredients into a blender at once. Then add to the ice cream maker and follow the manufacturer's directions.
This recipe uses xylitol instead of erythritol as xylitol results in a creamier consistency after the ice cream is frozen. Erythritol makes the ice cream very hard; however, if you use erythritol, simply wait 5-7 minutes to serve the ice cream after it's been frozen.
You can use this dreamy vanilla ice cream as a base to create your own unique flavors. Toss in a few pieces of chopped dark chocolate and a drop or two of peppermint for mint chocolate chip or sprinkle a few fresh berries over top.
Nutrition Facts
Ketogenic low carb
Per serving
Net carbs: 4 % (3 g)
Fiber: 0 g
Fat: 86 % (25 g)
Protein: 10 % (7 g)
kcal: 257