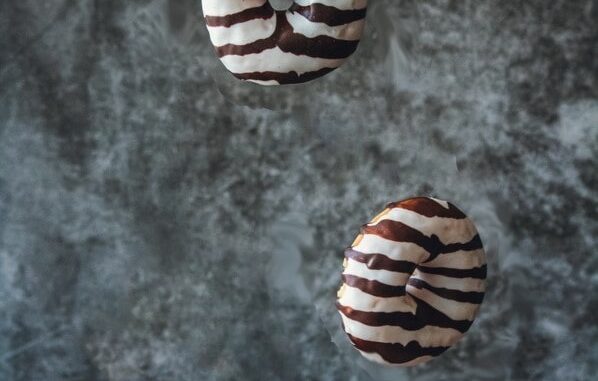 Donuts and Diets don't usually mix, until now! These Old-fashioned Cake Donuts are perfect for people following the Keto Diet plan! Try them out today!
Ingredients
Donuts
½ cup coconut flour
¼ tsp sea salt
¼ tsp baking soda
6 eggs
½ cup erythritol
½ cup butter or coconut oil
1 tsp vanilla extract
¼ tsp almond extract
Frosting
¼ cup melted butter or coconut oil
¼ cup cream cheese, softened
¼ cup powdered erythritol
½ tsp vanilla extract
Chocolate drizzle
3 tbsp melted butter
2 tbsp powdered erythritol
1 tbsp cocoa powder, unsweetened
Instructions
Preheat Over to 350°F (175°C)
In a large bowl, mix the dry donut ingredients together. Stir in the wet ingredients into the dry ingredients. Fill greased donut pan circles about ⅔ of the way full with batter. Bake for about 20 minutes, or until a toothpick comes out clean.
Meanwhile make the frosting by placing all the ingredients in a medium shallow bowl and stir well to combine. Taste and adjust sweetness to your liking
Dip cooled donuts into the frosting and place on a piece of parchment to chill
To make the chocolate drizzle, place the ingredients for the chocolate drizzle in a small bowl and stir well to combine. Drizzle donuts with chocolate drizzle as desired.
Tip
If you don't have a donut pan you can make a substitute with tinfoil and a muffin pan. Using a square of tinfoil about 6″ x 6″ (15 cm x 15 cm) tent up a firm center nob in the middle of the foil. Make one for each donut. Then press each of the foils into the muffin circles, keeping the center nob and smoothing the foil around the edges of each muffin indent. Pour the batter into the foil structure.
You can substitute the ½ cup of coconut flour with 2 cups blanched almond flour. If you use almond flour, use 2 eggs instead of the default 6 eggs.
Nutritional Facts
Ketogenic low carb
Per serving
Net carbs: 2 % (2 g)
Fiber: 4 g
Fat: 89 % (28 g)
Protein: 9 % (6 g)
kcal: 294