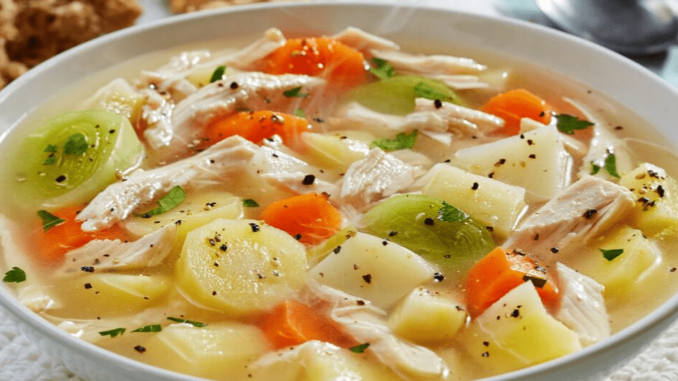 The leaves are changing color and that means it's time to settle down and think about comfort foods that are good for the body and soul, bringing back special memories and good feelings. What spells comfort more than a bowl of warm chicken soup? This recipe is terrific for those chilly nights and for when you feel a cold coming on.
Hint: We've made this recipe a little easier by using purchased chicken stock from the store.
Ingredients:
10-12 cups chicken broth
1 large skinless chicken breast (with or without bone)
2 stalks celery chopped small
3 carrots, sliced or diced small
1 small onion, chopped fine
1 clove garlic, minced
2 small Yukon gold potatoes, peeled and chopped into ½ inch pieces
Pinch of black pepper
Pinch of dried or fresh thyme
4 white mushrooms washed and sliced thin
Let's cook!
In a large pot, add the broth and chicken breast and bring to a boil. Once the broth is boiling, reduce to a simmer until the chicken is cooked (approximately 20 minutes).
Remove the chicken breast and shred the chicken, and set it aside.
Add the potatoes and other vegetables to the broth and let it continue to simmer until all the vegetables are cooked through.
Add the chicken back to the pot and continue to simmer until everything is warmed and blended together.
Enjoy this hearty soup or share it with your friends and your family.
Tip: You can add some cooked white rice, noodles or even other vegetables to this soup to make it uniquely your own.