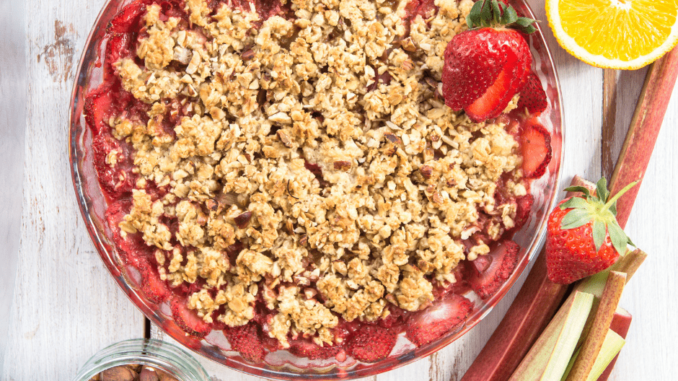 You may be looking for ways to reduce your sugar intake, but that doesn't mean you need to avoid dessert all together. Commercial desserts are often loaded with sugar and fat, so what you taste is anything but wholesome and deliciously natural fruit. In this recipe we are taking the best fruit of the season and making it the star of the show. Who needs a ton of added sugar? We don't!
Reduced Sugar Strawberry Rhubarb Crisp
Ingredients:
3 cups fresh strawberries – sliced
2 cups fresh rhubarb – chopped
1/3 cup packed brown sugar
1 tablespoon of honey
¼ cup butter
1 cup rolled oats (not quick oats)
1/8 cup crushed hazelnuts or slivered almonds
1 teaspoon ground cinnamon
1 teaspoon white flour
1 teaspoon corn starch
1 tablespoon grated lemon zest
Let's cook!
Preheat your oven to 350 F
Spray a shallow baking dish with cooking spray.
In a large bowl combine the fruit, cornstarch and honey.
Pour the fruit into the baking dish.
In a small bowl combine your oats, nuts, brown sugar, flour and cinnamon.
Mix the butter into the oat mixture with your hands or a fork until it is crumbly.
Pour the oat mixture over the top of the fruit mixture and spread it evenly.
Bake in the oven for 30-40 minutes or until the topping is golden and the rhubarb is soft cooked.
Enjoy this delicious sweet, warm dessert by itself or with some healthy yogurt or no-sugar-added ice cream!