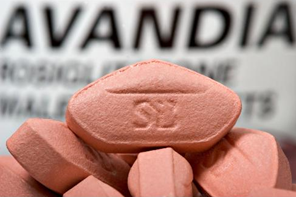 Avandia is the brand name of rosiglitazone, a medication used to lower the high blood sugar associated with type 2 diabetes. It is manufactured by GlaxoSmithKline.
Each pentagonal, film coated Tiltab® tablet is debossed with "SB" or "GSK" on one side and numbers on the other. Tiltab tablets are specially shaped to make them easier to pick up. The most stable position on a horizontal flat surface is a tilted position for easy picking, showing potential benefit to tackle dexterity issues and increase patient compliance.

Tiltab is the registered trademark of GlaxoSmithKline. Other than Avandia, Tiltab is also used on other medications, such as Coreg, Doralese.
Branded Avandia was approved by the U.S. Food and Drug Administration (FDA) in 1999. Generic Avandia To Treat Type 2 Diabetes is Now Available from Canada. The generic product is also supplied as pentagonal tablets, easy to pick up by those with impaired dexterity.