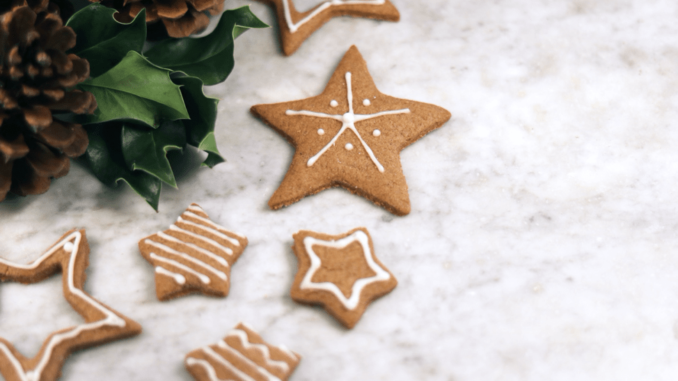 With a fluffy middle and golden edges, these holiday cookies will be sure to delight. With whole wheat flour they're not only tasty but healthy as well! Try them today!
Prepping Time
20 Mins
Total Time
2 Hours 20 Mins
Yield
Serves 32 (serving size: 1 cookie)
COOKIES:
2 cups of Whole wheat flour
1/2 teaspoon of salt
1/4 teaspoon of baking powder
10 tablespoons of butter, softened
1/2 cup of granulated sugar
1-ounce of 1/3-less-fat cream cheese, softened
1 large egg
1 teaspoon of vanilla extract
ICING:
1/2 cup of powdered sugar
2 tablespoons of plain 2% reduced-fat Greek yogurt
1/4 teaspoon of grated lemon rind
Naturally colored sparkling sugar (optional)
Instructions
To prepare cookies, weigh or lightly spoon flour into dry measuring cups; level with a knife. Whisk together flour, salt, and baking powder in a medium bowl. Beat butter, granulated sugar, and cream cheese in a large bowl with an electric mixer on high speed until light and fluffy, about 3 minutes. Add egg; beat until well blended. Add vanilla; beat until blended. Reduce mixer speed to low. Gradually add flour mixture to butter mixture; beat just until combined.
Flatten dough into a 6-inch disk; wrap with plastic wrap. Chill 1 hour.
Preheat oven to 350°F.
Roll dough to 1/4-inch thickness on a lightly floured surface. Cut out 32 cookies, using a 2- or 3-inch cutter, rerolling scraps as necessary. Place cookies 1 inch apart on baking sheets lined with parchment paper. Bake 12 minutes or until lightly browned around edges. Cool.
To prepare icing, whisk together powdered sugar, yogurt, and rind; drizzle over cookies. Sprinkle with sparkling sugar, if desired. Let stand on a wire rack until icing is set, about 15 minutes.
Nutritional Information
Calories 84
Fat 4.2g
Satfat 2.5g
Monofat 1.1g
Polyfat 0.3g
Protein 1g
Carbohydrate 11g
Fiber 1g
Cholesterol 16mg
Iron 0.0mg
Sodium 46mg
Calcium 8mg
Sugars 5g
added sugars 5g
Found: https://www.cookinglight.com/recipes/iced-whole-wheat-sugar-cookies