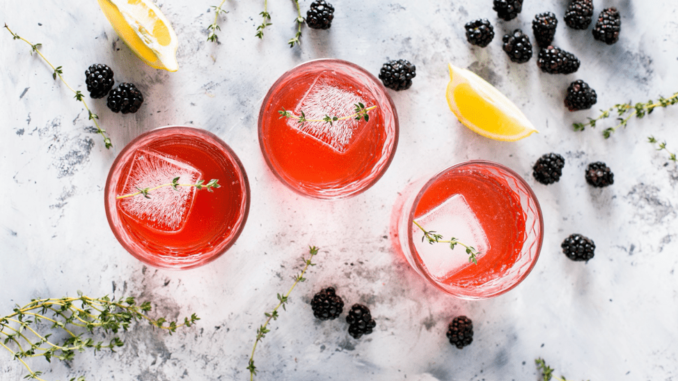 This festive mocktail will be sure to have your guests asking for more! With blackberries and lemon packing a strong flavour punch, people of all ages can enjoy this delicious drink.
yield: 4 SERVINGS
prep time: 2 MINUTES
cook time: 10 MINUTES
total time: 12 MINUTES
INGREDIENTS
1/2 cup fresh blackberries
1/4 cup sugar
1 cup water
1/2 cup pre-made lemonade
juice of 1 lemon
lemon slices
seltzer/club soda
mint
INSTRUCTIONS
Add the blackberries to a small sauce pan and mash them with a fork or potato masher until broken down into small bits.
Add the sugar, water and lemonade and bring to a simmer.
Simmer over low-medium heat for about 10 minutes.
Strain the mixture to remove the bits of blackberry, add the juice from the lemon and refrigerate the liquid until cooled.
Once cooled, pour the liquid evenly among 4 glasses filled with ice cubes.
Add seltzer until glass is full.
Garnish with lemon slices, mint and extra blackberries.