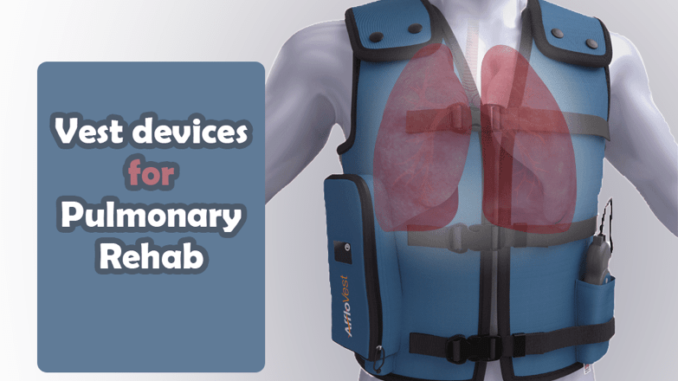 Most of the patients with chronic obstructive pulmonary disease (COPD) or pulmonary fibrosis needs pulmonary rehabilitation to keep airway clear.
Some physicians recommend handheld oscillatory positive expiratory pressure (OPEP) devices for patients with stable COPD to remove secretions. These devices require patients to exhale against a fluctuating resistance.
If handheld devices are ineffective, the patient moves to a vest, which delivers high frequency chest wall oscillation (HFCWO).
The Vest Airway Clearance System
The Vest Airway Clearance System is designed to assist patients in the mobilization of retained secretions. If not removed, retained secretions may contribute to increased rates of respiratory infection, hospitalization, and reduced lung function.
Through HFCWO technology, The Vest Airway Clearance System dislodges mucus from the bronchial walls and mobilizes secretions and mucus from the smaller to larger airways where it can be cleared by coughing or suctioning. 
Philips InCourage System    
InCourage system can help break the serious cycle of excess mucus, lung infections and further lung damage for patients living with chronic respiratory conditions.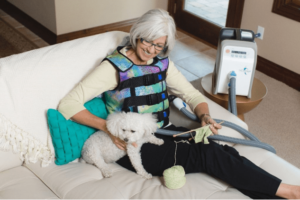 Patients who use vest therapy have been shown to experience fewer pneumonias, fewer hospitalizations, and better results on pulmonary function tests, which measure how well the lungs are working.
The Monarch Airway Clearance System

The Monarch System uses Pulmonary Oscillating Discs (PODs) to generate oscillations and targeted kinetic energy to your lungs.
This airway clearance therapy helps thin mucus and increase airflow, mobilizing secretions from the airways while you are going about your day. As a result, you no longer have to put your life on hold for therapy.
AffloVest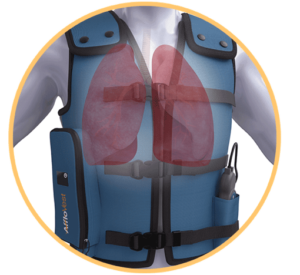 AffloVest is a proven HFCWO therapy designed to provide patients the freedom and mobility to customize and enhance airway clearance therapy, help mobilize lung secretions, and promote treatment adherence for patients with bronchiectasis, cystic fibrosis, COPD,MS, MD (muscular dystrophy), ALS, and other neuromuscular and respiratory diseases.
AffloVest has eight mechanical oscillating motors scientifically engineered to target all 5 lobes of the lungs, front and back, for full mobility during use. With no bulky hoses or generators, the AffloVest is engineered to encourage treatment adherence and compliance by allowing patients to experience an improved quality of life during airway clearance treatments.
The AffloVest has received the FDA's 510k clearance for U.S. market availability, and is approved for Medicare, Medicaid, and private health insurance reimbursement.
If you have questions about your prescription medications or any other medication, please contact our team at CheapoMeds by calling toll free 1-800-721-7045. One of our patient representatives will be happy to assist you or transfer you to a licensed Canadian pharmacist for a free consultation.
This article contains medical information provided to help you better understand this particular medical condition or process and may contain information about medication often used as part of a treatment plan prescribed by a doctor.  It is not intended to be used as either a diagnosis or recommendation for treatment of your particular medical situation.  If you are unwell, concerned about your physical or mental state, or are experiencing symptoms you should speak with your doctor or primary health care provider. If you are in medical distress, please contact emergency services (such as 911).
References:
respiratorytherapy.ca
hill-rom.com
cegla-shop.com
haag-streit.com
medline.com
trudellmed.com
philips.com
mymonarch.com
bronchiectasis.com.au
hindawi.com
merckmanuals.com
lung.org
cff.org