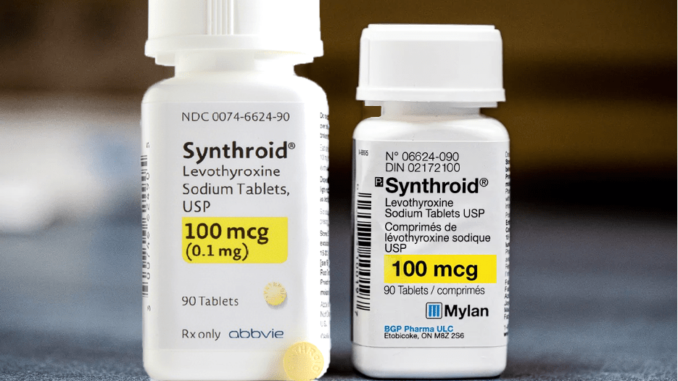 Before you buy Synthroid, compare prices at locally pharmacies in the U.S. and online pharmacies from Canada.
For example, the lowest price for brand Synthroid (levothyroxine) 100 mcg is $0.56 per tab for 90 tabs at cheapomeds.com, an accredited online pharmaciy. You save 70% off the average U.S. pharmacy retail price of $1.91 for 90 tabs (Source: goodrx.com).
Check Prices of Brand Synthroid From Canada And See the Cost Savings!
What is Synthroid?
Synthroid is a brand-name prescription medication called levothyroxine. It is FDA-approved for use in people with hypothyroidism, as well as enlarged thyroid gland and a certain type of thyroid cancer.
Synthetic thyroxine hormone (T4) comes as brand-name Synthroid or generic levothyroxine. It is man-made to replace a hormone that is usually made by your thyroid gland.
Synthroid 25, 50, 75, 88, 100, 112, 125, 137, 150, 175, 200 and 300 mcg strengths are available in bottles of 90 tablets each.
Is Synthroid In Canada The Same as In the U.S.?
Synthroid is manufactured by AbbVie in the U.S and licensed use by BGP Pharma ULC, a Mylan company, in Canada. Mylan is now part of Viatris. Both countries produce brand-name products.
The product monograph indicates Synthroid in Canada has the same active ingredients as the one in the U.S.
However, AbbVie the manufacturers of Synthroid that is marketing in the United States, sources the ingredients from the United States, Puerto Rico, France, Italy, Japan, Mexico, and Germany. Meaning that the finished prescription product – Synthroid – may be different in the U.S. than the Canadian versions.
Tell your doctor if you are going to switch to Synthroid from Canada as it will save you 70% or more.
Should You Take Generic Synthroid?
Synthroid and generic levothyroxine may have different effects on your thyroid hormone levels. Although generics tend to cost less than brand-name medications, it is recommended by the American Thyroid Association that you do not switch between them.
You should keep taking whichever medication you initially start taking. For example, if you start taking brand-name Synthroid, you should continue to use brand-name Synthroid. If you must switch from the brand-name medication to a generic form, or vice versa, you have a blood test 6 weeks after making the switch.
Some patients may experience issues with potency fluctuations between Synthroid and generic levothyroxine.
What Are the Brand Names of Levothyroxine?
These include Levothroid, Levoxyl, Synthroid, Tirosint and Unithroid in the United States; and Synthroid, Eltroxinand Euthyrox in Canada.
Can I Buy Synthroid Online?
Yes, some online Canadian pharmacies carry Synthroid as well.
Before doing business with an online pharmacy, confirm it is licensed in its country of origin and that the country has strong pharmacy regulations.
There is a website that helps you with this. The Canadian International Pharmacy Association runs a site (cipa.com) that allows you to compare medication prices among dozens of pharmacies whose legitimacy it has certified.
For example, Cheapomeds.com is one pharmacy that CIPA certified and they have ability to fill Synthroid.
Check Prices of Brand Synthroid From Canada And See the Cost Savings!
References:
Abbvie.com
Mylan.ca
Synthroid.com
Pharmacycheckerblog.com
Verywellhealth.com
Cbc.ca
This article is sponsored by CheapoMeds. If you have questions about your prescription medications or any other medication, please contact our team at CheapoMeds by calling toll free 1-844-4CHEAPO (424-3276). One of our patient representatives will be happy to assist you or transfer you to a licensed Canadian pharmacist for a free consultation.
This article contains medical information provided to help you better understand this medical condition or process and may contain information about medication often used as part of a treatment plan prescribed by a doctor.  It is not intended to be used as either a diagnosis or recommendation for treatment of your medical situation.  If you are unwell, concerned about your physical or mental state, or are experiencing symptoms you should speak with your doctor or primary health care provider. If you are in medical distress, please contact emergency services (such as 911).