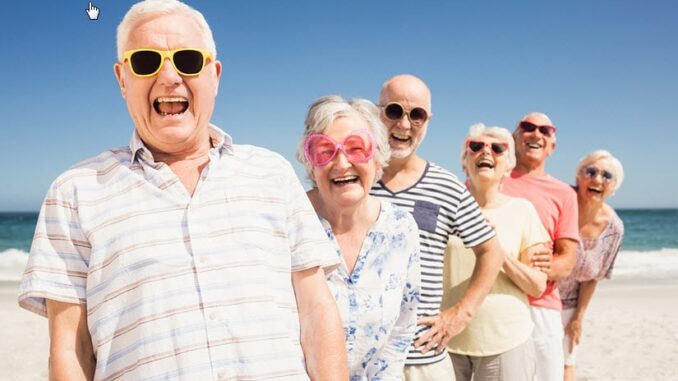 UV Exposure As We Age
Just How Harmful Is The Sun?
Everyone looks forward to blue skies and warm weather, and summer is a great time to get outside and be active! There is something to watch out for, however, and that is the danger of ultraviolet (UV) rays.
The sun is our main source of ultraviolet (UV) radiation, which is a major risk factor for skin cancer. The more you are exposed to UV rays without protection, the greater your risk for getting skin cancer. UV rays actually damage your skin cells DNA.
There are three kinds of UV rays:
UVA – these are the rays that age your skin cells and can damage your cell's DNA. If you're avoiding premature or long term skin damage such as wrinkles, this is the ray to avoid. UVA rays also raise your risk for cancer.
UVB – these rays are the rays that cause sunburn, and they are thought to be the ones mainly to cause skin cancer.
UVC – these rays aren't believed to cause skin cancer. They do come from the sun, but they don't make it through the Earth's atmosphere to reach us.
According to the American Cancer Society it is believed that there is no such thing as a safe UV ray.
UV rays are strongest between the hours of 10am and 4pm each day. The rays are also strongest in the spring and summer for most parts of the world, but of course this is different for areas near or one the equator.
Fact: UV rays can still reach you on a cloudy day!
Choosing a Sunscreen to Protect Your Skin from Harmful UV Rays
The first thing to look for when choosing a sunscreen is the SPF number. SPF stands for Sun Protection Factor, and is measurement of how well the sunscreen protects you from UVB rays. The higher the SPF number, the more protected you are.
An SPF 50 will block 98% of UVB rays but keep in mind that this does not protect you from UVA rays, so it is important to take other precautions to protect your skin.
You can get sunscreen in different forms, such as sprays, gels, wipes, sticks, lip balms and lotions. While it may be tempting to put sunscreen on once and forget about it for the day, it's important to remember that sunscreen does wear off and needs to be reapplied throughout the day.
One of the a biggest sellers in the US market is the Anthelios line of sun protection products from La Roche-Posay. These products offer broad spectrum UV protection with a range of textures suitable for every sensitive skin in the family. Two of the most popular sellers are:
Anthelios XL SPF 60 Face Stick is an easy to carry and easy to apply water-resistant sunscreen stick and has been formulated to protect against both UVA and UVB rays. It is fragrance-free, hypoallergenic and really easy to use. It is also recognized by the Canadian Dermatology Association for meeting the following criteria: broad-spectrum with an SPF 30 or Higher, low potential for irritation, non-perfumed, and non-comedogenic.
Anthelios XL SPF 60 Comfort Cream is also available. Unlike the stick, this is a non-greasy, velvety lotion that is easy to apply and easily absorbed.
We can also recommend the use of Ombrelle line of sun care products by Garnier. These products are the number one sun body protection recommended by Canadian physicians.
How to Apply Sunscreen
The key word to remember is this – GENEROUSLY. That's right, you need to apply your sunscreen with gusto, making sure to apply it to your face, neck, arms, ears, lips, head, back of your neck, chest, back and front and even your feet if you're wearing sandals. People laying on the beach often forget that every time you turn over on the towel or chair a little of the sunscreen comes off, so make sure to reapply sunscreen often.
When to Apply Sunscreen
Sunscreen should be reapplied every two hours to ensure constant protection. If you swim or sweat you need to reapply your sunscreen more often.
Other Ways to Avoid UV Rays and Protect Your Skin
Avoid direct sun by staying in the shade.
Wear longer sleeves and clothing to cover your exposed skin.
Wear a wide brimmed hat to protect your face and neck from the sun.
Avoid tanning beads and sun lamps.
Wear wrap-around sunglasses to protect your eyes and the skin around them.
Protect your neck and chest from the sun by wearing higher collar shirts.
When driving do not drive with one arm out the window.
If your hair is thinning or if you are bald, remember to apply sunscreen to your head and ears.
If you are wearing a baseball cap, remember to wear a shade cap, which is a cap with material down the back of the neck.
Wear sunglasses that offer 100% UVA and UVB ray protection. The label on your sunglasses should say "Meets ANSI UV Requirements" which means it will block at least 99% of UV rays. If the label says "cosmetic" it means it will block up to 70% of UV rays.
So go on and enjoy yourself and have fun outdoors. Protect your skin and protect your life.
Further information on Anthelios XL SPF 60 Comfort Cream can be found at the following link: Learn More