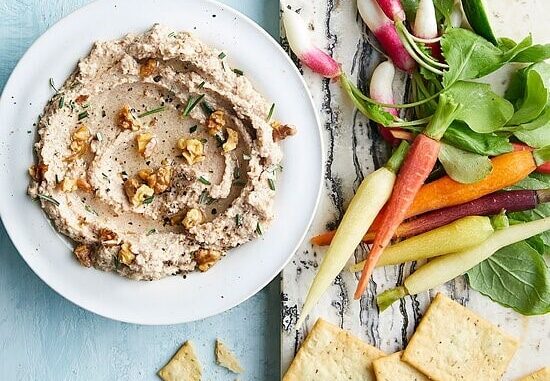 This creamy dip is not only delicious but also dairy-free, soy-free, low-calorie, low sodium, and vegan! This recipe is a great appetizer for hosting or a healthy alternative if you're feeling snacky!
Cook Time:15 mins
Total: 2 hrs 45 mins
Servings: 16
Ingredients
1 cup Walnuts, plus toasted chopped walnuts for garnish
1 cup Cauliflower florets (1 small head)
4 teaspoons Extra-virgin Olive Oil, divided
¾ teaspoon Salt, divided
1 head Garlic
½ cup Water, plus more as needed
¼ cup Walnut Oil, plus more for garnish
2 tablespoons Lemon juice
1 teaspoon Minced Fresh Rosemary, plus more for garnish
Ground pepper for garnish
Directions
1. Soak 1 cup of walnuts in water for 2 hours
2. Preheat oven to 400°F
3. Toss cauliflower with 3 teaspoons of oil and 1/2 teaspoon of salt and place on a baking sheet.
4. Slice the top off the garlic head, exposing the cloves. Drizzle with remaining oil and a 1/8 teaspoon of salt, wrap in foil, place on the baking sheet.
5. Roast garlic and cauliflower, stirring once until tender (35-40 minutes) Let cool on baking sheet for 5 minutes.
6. Transfer the Cauliflower and squeeze the garlic cloves out of the skins into a food processor. Drain the walnuts and add to the food processor, along with ½ cup of water, walnut oil, rosemary and remaining 1/8 teaspoon of salt.
7. Puree until mostly smooth, add more water, 1 tablespoon at a time, if needed.
8. Transfer to a bowl and top with pepper, toasted walnuts, walnut oil and rosemary, as desired.
Recipe and picture found on: http://www.eatingwell.com/recipe/270988/roasted-cauliflower-walnut-dip/#nutrition