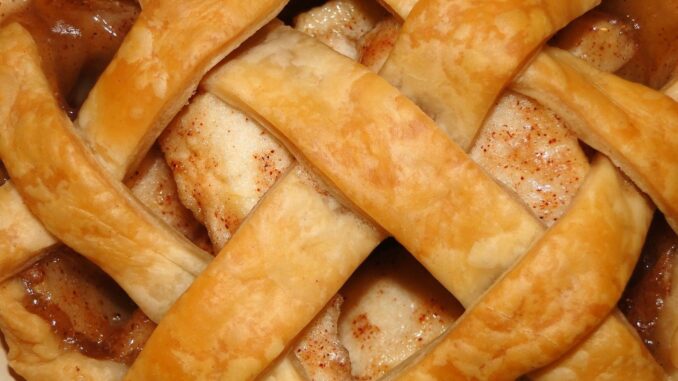 There's nothing better than the aroma of Apple Pie! However, many diets do not support it as it's a very high-calorie dessert. With this recipe you're able to still enjoy the delicious classic dessert with fewer calories.
Total time: 95 Minutes
Prep Time: 40 minutes
Cook Time: 50 Minutes
Yield: 1 pie (8-10 servings)

Ingredients
For the Pie Crust
1 cup all-purpose flour
½ teaspoon salt
¼ cup butter (chilled)
3 tablespoons of water (ice-cold)
For the Apple Filling
2 cups of Granny Smith Apples (Peeled, cored and slices)
1 tablespoon of lemon juice
¼ cup brown sugar
2 tablespoons of granulated sugar
1 ½ tablespoons all-purpose flour
2 tablespoons of butter
Directions
For the Pie Crust
In a large mixing bowl, combine the flour and salt. Cut in the chilled butter, using two knives or a pastry blender.
Sprinkle in the ice water into the mixture, 1 tablespoon at a time, mixing with a fork after each addition.
Using your hands, form the dough into a ball. Roll the dough into an 11-inch circle between two sheets of plastic wrap coated with cooking spray, to reduce sticking.
Place the dough in the refrigerator for 30 minutes so it becomes slightly firm and uniform.
Preheat the oven to 425 F.
Remove the top sheet of plastic wrap from the pie dough
Turn the dough over into a 9-inch pie plate coated with cooking spray and remove the remaining layer of plastic wrap. Using your fingers, press the dough into the pie plate and flute the edges.