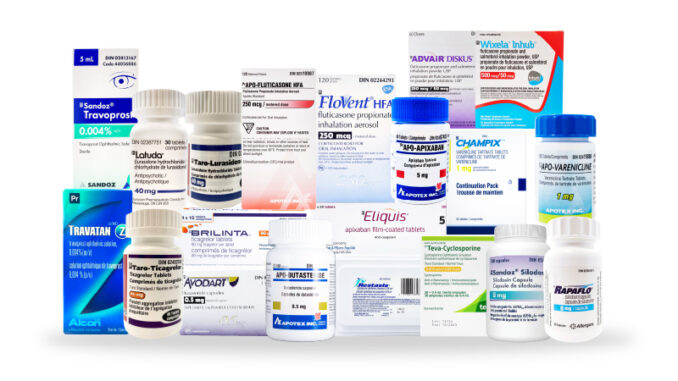 Our Canadian pharmacy agrees with billionaire and Mavericks owner Mark Cuban – we believe everyone should have safe and affordable medicines. We opened our online pharmacy service offering prescription mail order drugs at cheaper prices. We offer hundreds of common and often life saving medications. The pharmacy partners we work with offer them at the lowest prices possible and this is a significant savings over these same medications offered in the US – both generic and brand.
We sell more than just generics. We sell brand named medications at significant savings as well as Canadian generics, some of which are not available in the USA. When compared to brand name medications, our Canadian generics offer the same safety and effectiveness while providing even more savings to your drug costs.
Here are some top selling Canadian generics that are either not available at your pharmacy in the USA or we have these generic medications available at our Canadian online pharmacy at a better price: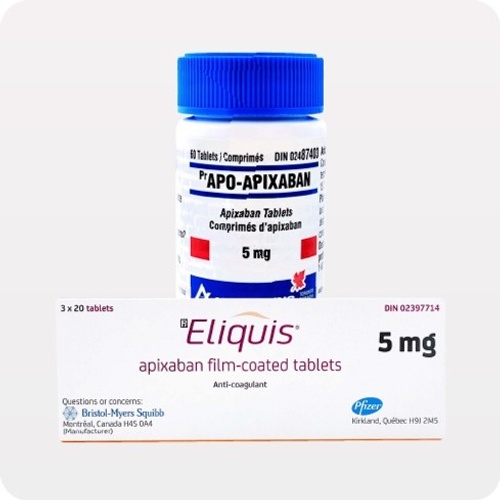 The generic name of Eliquis is apixaban. Eliquis (apixaban) is used to prevent blood clots from forming due to a certain irregular heartbeat called atrial fibrillation. This medication is also used after hip/knee replacement for a period of time until the risk of clotting subsides.
Generic apixaban is available from our pharmacy partner in Canada and is cheaper than brand name Eliquis.
Chantix is known as Champix in Canada. The generic name for Chantix is varenicline. Chantix (varenicline) is used to aid in smoking cessation. The medicine varenicline has a two fold effect. One, it blocks nicotine from binding to the nicotinic receptors in your body to lessen pleasure from nicotine. Second, varenicline partially stimulates these same receptors to reduce cravings.
Generic Chantix is varenicline and it is available from our Canadian pharmacy.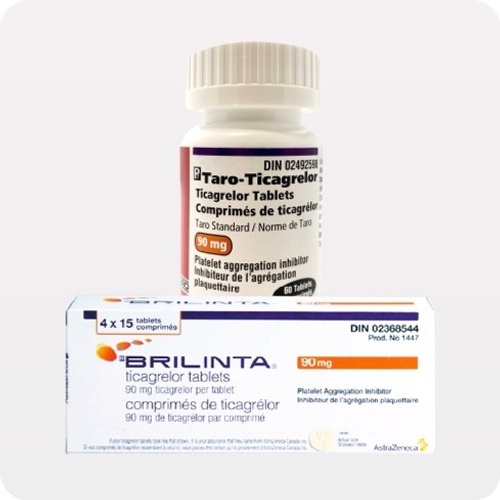 Brilinta's generic name is ticagrelor. Similar to Eliquis (apixaban), Brilinta (ticagrelor) is used to prevent blood clots. However, Brilinta is an antiplatelet medication and is often given with Aspirin to prevent clots which can cause stroke, heart attacks and other events in people with problems with blood supply in the coronary arteries.
Generic ticagrelor (Brilinta) is available from Canadian pharmacies at significant savings.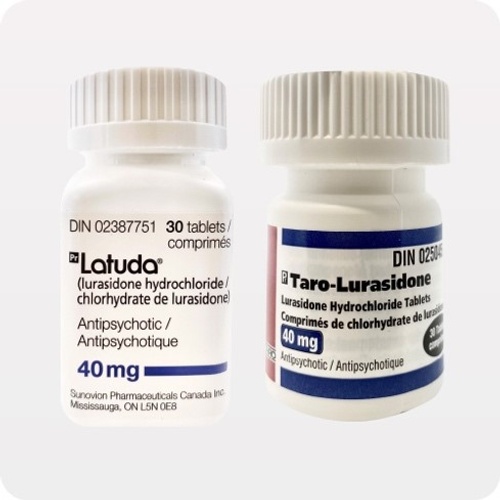 Latuda's generic name is lurasidone. Latuda (lurasidone) is used to treat certain mood and mental health disorders such as bipolar disorder and schizophrenia. Lurasidone is intended to help with mood stabilization. Lurasidone is classified as an atypical antipsychotic and is a standard treatment for patients with schizophrenia or bipolar disorder.
Generic Latuda, or lurasidone, has recently become available as a generic in Canada offering significant savings from our Canadian mail order pharmacy.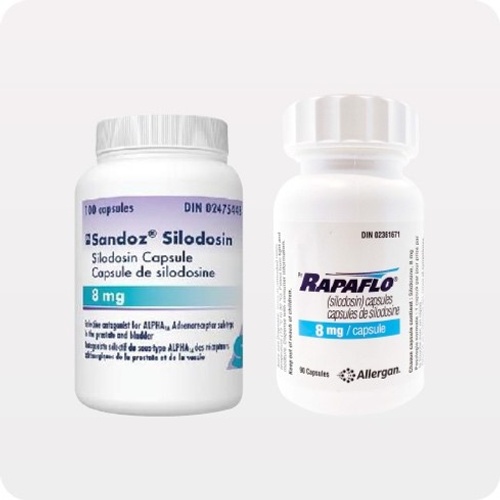 Silodosin is the generic ingredient in Rapaflo. Rapaflo (silodosin) is prescribed for the symptomatic treatment of benign prostatic hyperplasia (BPH). It is in a class of medications called alpha blockers which means it specifically blocks a receptor located in the prostate and bladder to relax those muscles and make it easier to urinate.
Generic Rapaflo, known as silodosin, is available from our Canadian mail order dispensary.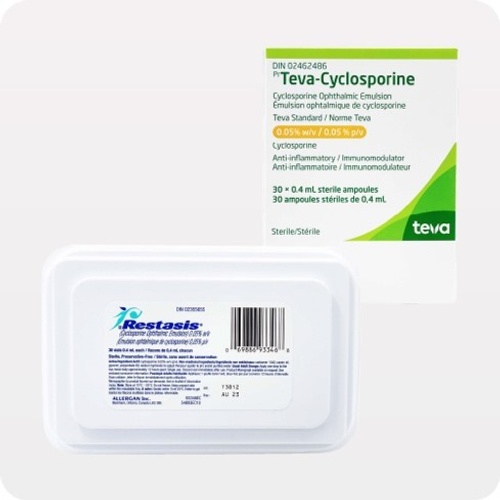 Restasis eyes drops are an emulsion of cyclosporin at a strength of 0.05% and are used for chronic dry eyes. Restasis (cyclosporin) 0.05% ophthalmic emulsion is available in unit dose vials (UDVs) which are designed to be used once and thrown away. Allergan is the manufacturer. These eye drops are also available in multidose vials.
Generic cyclosporin 0.05% ophthalmic emulsion, equivalent to Restasis UDV, in unit dose vials is available from CanadaDrugstore.com.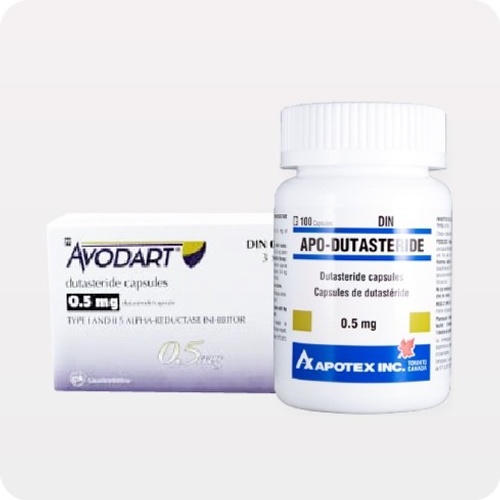 Avodart is available as generic dutasteride.
Avodart's generic is called dutasteride and is available as 0.5mg soft capsules from a variety of Canadian generic manufacturers.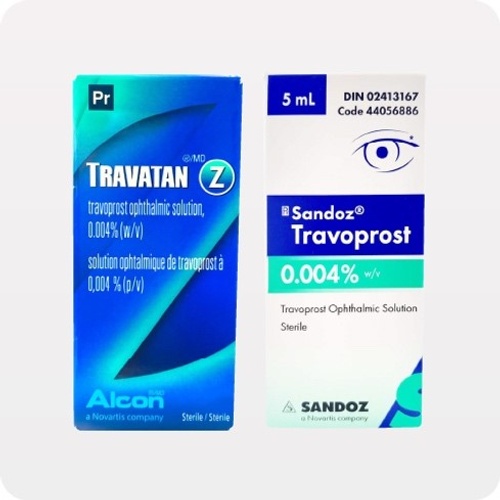 The generic ingredient in Travatan 0.004% ophthalmic drops is travoprost 0.004%. Travoprost treats increased pressure in the eye. The increase in eye pressure can be caused by ocular hypertension or open-angle glaucoma. Both of these can be treated with Travatan 0.004% (travoprost 0.004%) eye drops. The brand medication is also known as Travatan Z. The original preservative in Travatan was called benzalkonium chloride and had an increased incidence of side effects like eye irritation, redness, and itchiness. Travatan Z contains a different preservative called sofZIA which is less likely to cause these side effects. Travatan is no longer available as it has been replaced with Travatan Z.
The generic form of Travatan Z, travoprost, will also often have a "Z" after it to indicate it is the newer version of this medication. Travoprost Z 0.004% generic is available in Canada manufactured by Sandoz and contains SofZIA as a preservative. This is the same preservative as Travatan Z.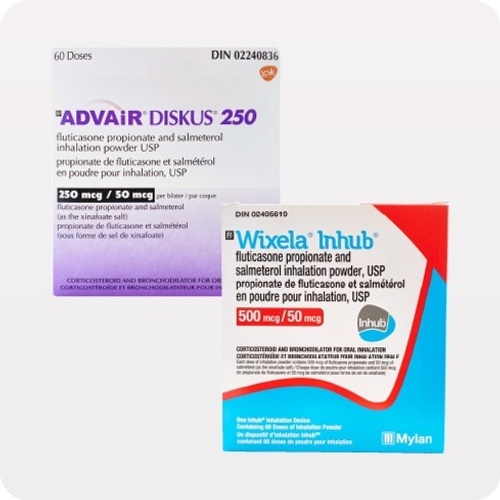 Advair Diskus contains to medicinal ingredients called fluticasone propionate and salmeterol (as xinafoate salt). Advair Diskus is a dry powder inhaler that is breath activated or inhaled into the lungs by breathing in the powder dispensed by this inhaler. Fluticasone is a corticosteroid which helps with longer term prevention of asthma attacks. Salmeterol is a bronchodilator and helps with keeping air passages in the lungs open. This combination of medications is often used in asthma and COPD.
Advair Diskus is available as a generic called Wixela Inhub in Canada. Interestingly, the marketing approach for this generic is a little different. The active ingredients in Wixela Inhub and Advair Diskus are the same. Wixela Inhub is considered the generic of Advair Diskus but the manufacturer has chosen to market a brand-like name for their product, "Wixela Inhub". Both Advair Diskus and Wixela Inhub are available from Canada in strengths of (fluticasone and salmeterol) 100/50 mcg, 250/50 mcg, and 500/50 mcg, respectively.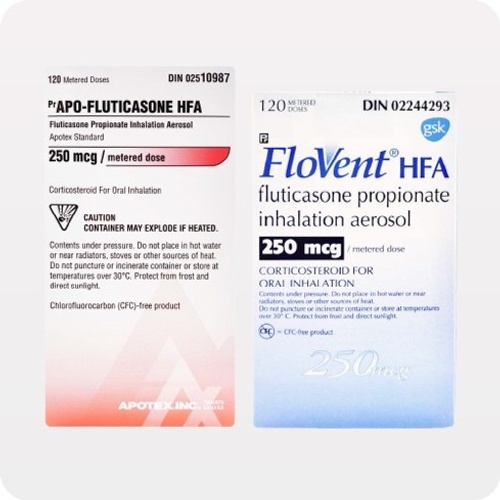 Flovent HFA is an inhalation aerosol containing either 50, 125, or 250 mcg or fluticasone propionate per metered dose. Flovent HFA (fluticasone propionate inhalation aerosol) is prescribed for children, adults, and some pets for the treatment of steroid-responsive bronchial asthma. Fluticasone propionate is used for prevention of bronchial inflammation and is not intended to be used for acute asthma attacks.
Flovent HFA is available from our Canadian online pharmacy in a generic format. Generic fluticasone metered dose inhalers come in 50, 125, and 250mcg strengths per metered dose.
| | |
| --- | --- |
| New Generic Products from Canada | Brand |
| Apixaban | Eliquis |
| Varenicline | Chantix |
| Ticagrelor | Brilinta |
| Lurasidone | Latuda |
| Silodosin | Rapaflo |
| Cyclosporin eye drops | Restasis |
| Dutasteride 0.5mg | Avodart |
| Travoprost 0.004% eye gtts | Travatan |
| Wixela inhub 250/50 | Advair Diskus |
| Fluticasone 250 | Flovent 250 |