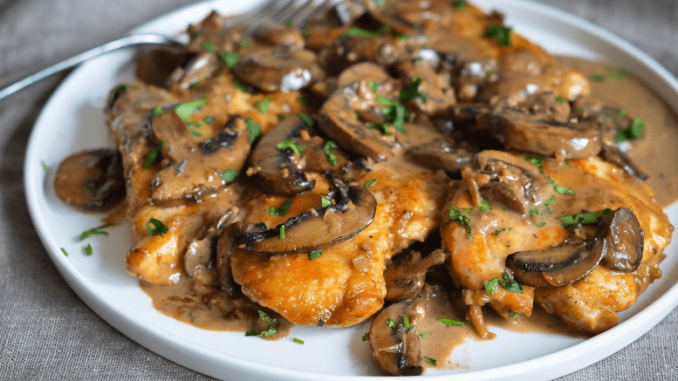 This dish is a low-calorie favorite.  The chicken smothered in mushrooms, and sundried tomatoes and is both healthy and very satisfying! 
Prep Time:15 min 
Cooking Time:20 min 
TOTAL TIME:35 min 
Makes: 4 Servings 
Ingredients:
4 Four-ounce Chicken Breasts 
1/3 CupWhole Wheat Flour 
2 TablespoonsExtra-Virgin Olive Oil (EVOO) 
¾ CupLow-Sodium Chicken Broth 
1/3 CupSun-dried Tomatoes (Chopped very fine) *works better if they are 
not packaged in oil or rehydrated* 
1 TeaspoonFresh Rosemary (Chopped very fine) 
12 OuncesSmall White Button Mushrooms (sliced very thin) 
1/3 CupSweet Marsala Wine 
1 ½ TeaspoonsUnsalted Butter 
2 TablespoonsFresh Parsley (Chopped) 
Himalayan Sea Salt & Fresh Ground Pepper (optional) 
Cooking Instructions:
Place your chicken breasts between 2 pieces of plastic wrap and pound with a meat mallet until they are roughly 1/3 inch thick.  Sprinkle with ¼ teaspoon of sea salt, and ¼ teaspoon of fresh pepper. 

D

redge your chicken in the whole wheat flour to fully coat, shake off any excess flour. Heat the oil in a large non-stick pan.  Add your chicken to the pan and fry until golden brown, 

apx

 4 min per side.  Then transfer to a plate and cover with aluminum foil to keep warm. 

Add 

½ cup 

Chicken Broth, Sun-Dried Tomatoes, and rosemary to the pan, stirring quickly for 

about

 1 min to plump your tom

atoes.  Now, add your mushrooms and cook until mushrooms are soft, about 4-5 min.  You can add ¼ teaspoon sea salt and ¼ teaspoon fresh pepper to taste (Optional).  Now, add your 1/3 cup Marsala Wine, and bring everything to a boil, then add the remaining ¼ cup of chicken broth, and 1 ½ teaspoons of unsalted butter and simmer till butter is fully melted and incorporated into the mixture

.

 

   

Spoon your mushroom and tomato sauce mixture over your warm chicken, and top with the 

fresh parsley.  You are now ready to serve.