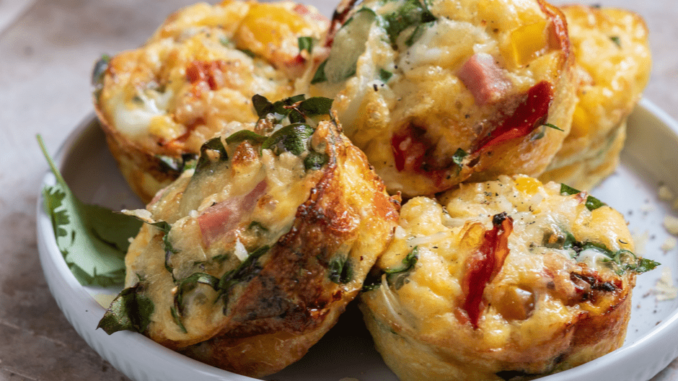 Whether you're a low-carb eater, eating paleo, gluten-free or keto, that's up to you – all we know is that these breakfast egg muffins are so easy to make and so delicious you will want to make a batch for the week ahead!  Ditch the morning drive-through and grab one of these delights from your fridge and start the day right!
We weren't kidding when we said these little egg muffins only have three ingredients – just eggs, salt and pepper! The rest is up to your imagination, so add the fillings you love!
Let's Cook!
Grease or line your muffin pan with paper or silicone liners.
In a bowl combine the following:
4 eggs
Pinch of salt
Pinch of pepper
Whisk together in a bowl and fill your muffin cups ½ full.
Add one or a few of your favorite fillings to each cup such as:
Diced cooked bacon
Finely chopped broccoli
Finely chopped fresh spinach
Finely chopped cooked chicken, ham, or corned beef
Diced onions
Shredded cheese
Diced tomato
A few drops of your favorite hot sauce
Chopped cooked mushrooms
Bake in the oven at 350 for 12 minutes or until firm and slightly browned.
Remove from pan carefully and let them cool on a wire rack or let them cool in the pan.
Try one our Buffalo Chicken Egg Muffins and tell us what you think!
Buffalo Chicken Egg Muffins
4 Eggs
Pinch of garlic powder
Pinch of salt and pepper
1 cup finely diced chicken
3 green onions chopped
¾ cup grated shredded cheese
Let's cook it up!
Mix the eggs, salt and pepper together in a bowl.
Fill the lined muffin cups ½ full of the egg mixture.
Sprinkle some diced chicken and green onions in each cup.
Add a splash of buffalo sauce to each cup.
Add a sprinkle of grated cheddar cheese to each cup.
Bake at 350 for 12 minutes until egg muffins are done.
Breakfast and brunch should be a time to start the day comfortably and easy. We hope you enjoy this recipe in good health!