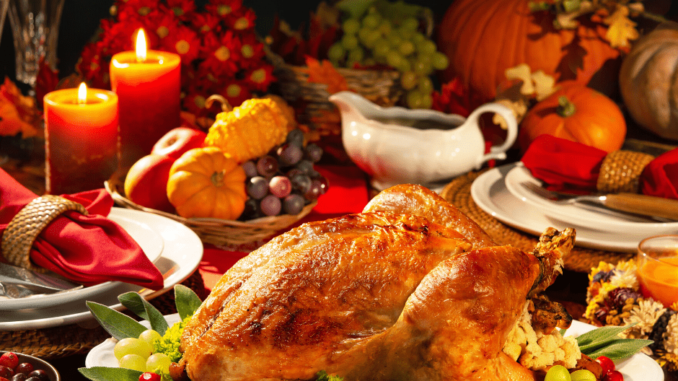 A golden turkey brought to the table, much to the awe and applause of guests, is the highlight of the holiday dinner. You want to make sure your turkey is perfectly roasted, moist and mouthwatering. It's surprising to know that many people won't roast a turkey because they think it's too complicated. Not at all – in fact, if you can roast a chicken, you can roast a turkey.
Choosing the right sized bird to feed everyone is essential, not only to make sure everyone has plenty to eat, but also make sure there is enough for the ever-important leftovers for sandwiches! Keep in mind that turkeys over 16 pounds usually have more meat in proportion to the bone, so serving allowance is a little less.
| | |
| --- | --- |
| Turkey Size (uncooked) | Serving per person (uncooked) |
| Less than 16 pounds | 1 pound |
| Over 16 pounds | ¾ pound |
To calculate seconds and enough leftovers to satisfy your family and friends the next day, add another ½ pound to ¾ of a pound per person.
There really is no mystery to making the perfect roast turkey. Take your time and enjoy the process! Some methods use a tin-foil tent over the turkey, while other methods leave the turkey to roast in the oven without a cover of any kind. This method uses cheesecloth to ensure a moist and golden turkey you'll be proud to serve to your guests! Don't be alarmed as the cloth turns dark brown. Just make sure the cloth does not touch the top element of the oven.
Turkey Rub:
1 turkey, completely thawed (follow serving chart)
3 tablespoons butter, softened
2 teaspoons dry sage
½ teaspoon black pepper
½ teaspoon salt
¼ garlic powder or 2 garlic cloves, minced
Walnut Stuffing:
¼ cup butter, melted
1 large onion, diced
½ to 1 cup chopped celery
¾ teaspoon salt
½ teaspoon paprika
1 to 2 teaspoon sage
½ teaspoon black pepper
1/3 cup chopped walnuts
4 cups crustless day-old diced white or whole wheat bread
Chicken stock or water to moisten the stuffing lightly
Making the Stuffing
In a large saucepan melt butter. Add onion, celery and walnuts; sauté on medium heat. Add seasoning and bread crumbs and stir to coat evenly. Add stock, ¼ cup at a time to slightly moisten the dressing. Remember, if you are cooking the stuffing inside the turkey it will pick up additional moisture. If you are cooking the stuffing in a casserole dish, you may need to add more liquid.
Preparing the Turkey
Remove the giblets and neck from the turkey. Rinse turkey, inside and out, with cold running water, drain well and blot dry with paper towels.
Mix the butter, sage, salt and pepper together in a bowl and set aside.
If you are stuffing the turkey, allow stuffing to come to room temperature before stuffing. Stuff the turkey cavity and neck cavity well, keeping in mind that stuffing does expand slightly during roasting.
Rub butter and seasoning mixture all over the turkey, top and bottom. Place on a greased rack in an uncovered roasting pan.
Cover the entire turkey surface with cheesecloth that has been soaked in melted butter. Using the cheesecloth helps to ensure that the legs of the turkey are not over-done and dry by the time the white breast meat is cooked through.
Place the bird in a preheated 325°F (160°C) oven. After the first half-hour of cooking, baste frequently with pan drippings or additional fat – about every 20 minutes.
Is It Done Yet?
A meat thermometer inserted into the deepest portion of the breast should read 170°F (77°C) for a fully cooked unstuffed turkey. A fully cooked stuffed turkey should read 180°F (82°C). Stuffing should be at least 165° F. If you're not using a thermometer, allow 20 to 25minutes per pound for birds up to 6lbs and 15 to 20 minutes for birds over 16lbs. If the leg moves freely and the hip joint gives readily or breaks and the juices run clear after piercing the thickest part of the thigh, the turkey is done.