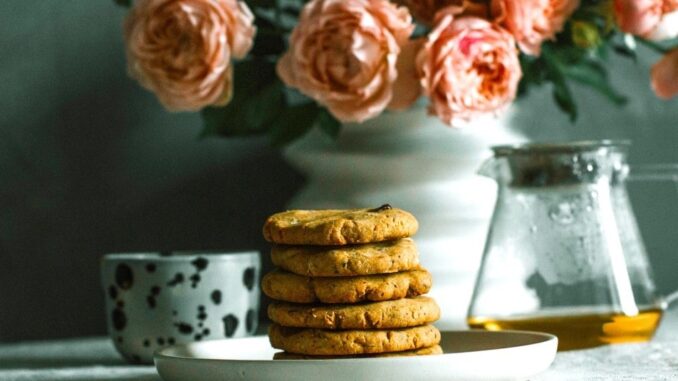 Servings
20 cookies
Ingredients
¾ cup Whole rolled oats
1 cup Whole wheat flour
½ tsp Salt
½ baking soda
4 Tbsp Coconut oil (melted)
4 Tbsp Unsalted butter (softened)
6 Tbsp Granulated white sugar
6 Tbsp Brown sugar
1 egg
1 tsp Vanilla extract
1 cup Semi-sweet chocolate chips
Directions
Grind oats into flour.
Combine Oat flour, whole wheat flour, salt and baking soda into a large mixing bowl.
In separate bowl, beat butter until creamy and smooth. Add coconut oil, white sugar, brown sugar, egg and vanilla extract.
Mix until smooth. Slowly add in flour mixture and stir until just mixed.
Fold in chocolate chips. Cover with plastic wrap and refrigerate for 1 hour, or overnight.
Preheat oven and take cookie dough out to thaw for 15 minutes.
Roll cookie dough into 20 round balls and place onto a parchment paper lined baking sheet.
Bake for 11 minutes. Let rest on counter until completely cool, store in an airtight container.