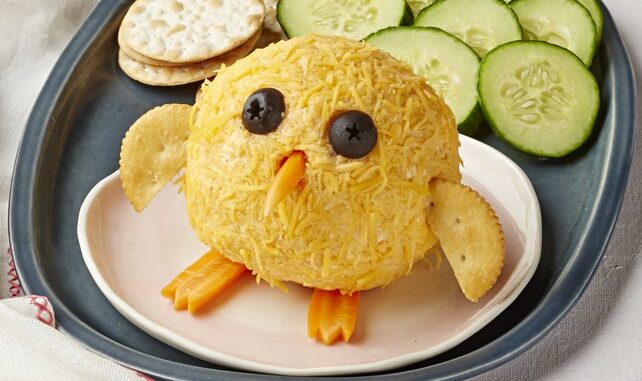 Celebrate Easter with a Baby Chick Bacon Cheese Ball. It's quick, easy and oh-so-cute!

Prep Time Total Time Servings
10min. 1hr.10min. 12Servings
What You Need:
1 pkg. (250 g) Brick Cream Cheese, softened
2 slices cooked bacon, crumbled
2 tsp. Worcestershire Sauce
1-1/2 cups finely shredded Medium Cheddar Cheese, divided
3 baby carrots
1 black olive, sliced
1 round cracker, cut in half
Make It:
Beat cream cheese, bacon, Worcestershire sauce and 1 cup cheese with mixer until blended.
Refrigerate 45 min. or until firm.
Shape cream cheese mixture into ball; roll in remaining cheddar.
Decorate with remaining ingredients to resemble baby chick as shown in photo.
Serving Suggestion:
Serve with assorted crackers and/or cut-up fresh vegetables.