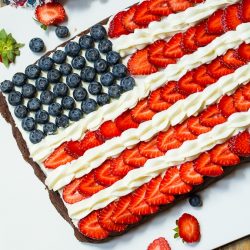 The 4th of July is coming and that means getting together with family and friends to celebrate the special day. Let's spend less time in the kitchen and more time with family and friends with these easy to make red-white-and-blue desserts!
Perfect Patriotic Parfaits
This no-cook dessert is simple to make and delicious. Everyone will love the layers of colors and fresh flavors!
TIP: Replace the whipped cream with Greek yogurt and sprinkle with a little granola to turn your parfait into a great addition to a delightful brunch.
Ingredients:
2 cups fresh raspberries
2 cups fresh blueberries
3 cups fresh whipped cream
4 parfait glasses or small clear glasses
Let's assemble our parfaits!
Add half a cup of blueberries to the bottom of each glass.
Add a layer of whipped cream on top of the blueberries in each glass.
Add half a cup of raspberries on top of the whipped cream in each glass.
Top with another layer of whipped cream on top.
Sprinkle a few raspberries and blueberries on the top layer.
Serve with a long spoon and get ready to celebrate!
Easy 4th of July Flag Cake
Flag cakes are not only tasty, they make a great presentation that everyone will be impressed with. We promise not to give away your secret time-saving ingredient if you don't. The secret ingredient? Cake mix!
To make this easy flag cake you need a couple of ingredients.
1 white cake mix
Vanilla buttercream icing
2 cups fresh blueberries
5 cups sliced fresh strawberries
Let's assemble the flag cake!
Prepare the cake and bake in a rectangular pan according to the package directions.
Make up the butter cream icing.
When the cake is baked and cooled, ice the cake on all sides.
Begin arranging the blueberries in the top left hand corner of the cake to form the area where the stars will be on the cake
Create red stripes across the cake with rows of strawberries.
Pipe or spread another row of butter cream between the strawberries.
Within a few minutes of starting to assemble the flag cake you will see it coming together to form a picture of an American flag!
Vanilla Buttercream Icing
While you may have used a cake mix as a short cut, we know you'll want to enjoy an incredible homemade vanilla buttercream icing.
Ingredients:
4 cups powdered sugar
1 cup (2 sticks) soft butter
3 teaspoons vanilla
2-3 tablespoons of milk or cream
Let's whip it up!
In a mixing bowl, combine the vanilla and butter, mixing completely.
Slowly add the powdered sugar and mix on low, scraping the sides of the bowl. Mix well.
Slowly add milk a tablespoon at a time until the mixture is the proper consistency for frosting.
TIP: Always make sure your cake or cupcakes are cool before you frost them.