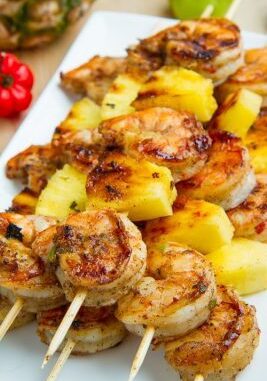 Get Ready for Healthy Easy Low-Carb Kabobs
Variety is the spice of life, and these summer kabob recipes are so easy and full of variety, you never have to get bored! They're easy to make ahead, delicious, low-carb, low-fat, and fun to take to your next barbecue event!
Let's talk skewers…
We recommend using double skewers to help prevent meat and veggies from spinning when they shrink as they cook. Poke one skewer through one side of the meat or veggie, and then insert a second skewer about ¼" apart from that the first skewer. This will hold everything in place!
If you use bamboo skewers be sure to soak them first to prevent them from burning on the grill. Metal skewers are always terrific and reusable.
Cooking Pro Tip: Remember that kabobs can have almost any ingredients! Mushrooms, onions, beef, chicken, peppers, the list is endless! Always choose foods that will remain somewhat firm after cooking so they don't fall apart on the grill. Let your imagination run wild and have fun with your favorite ingredients!
Siracha Shrimp and Pineapple Kabobs
Let's heat things up with an easy sweet and spicy combinations you and your friends will love. Leftovers are terrific added to a salad!
Glaze ingredients:
1 tablespoon Siracha sauce
2 tablespoons lime juice
1 teaspoon pureed garlic
¼ teaspoon ground ginger
5 tablespoons soy sauce
5 tablespoons peanut oil
Other ingredients:
2 pounds shrimp (deveined and without shell)
12 large pineapple chunks
1 red onion, chopped into large pieces
Let's Grill!
Mix the glaze ingredients together in a large bowl.
Divide the glaze into two smaller bowls
Add the shrimp to one of the bowls and mix well to coat the shrimp.
Start threading the skewers with alternating shrimp, pineapple and onion pieces.
Heat your grill and place kabobs on the grill, turning often to ensure all sides are cooking evenly.
Brush the shrimp and pineapple with the glaze as you grill.
When the shrimp are done (about 7 minutes), serve with the unused glaze on the side as a dipping sauce.