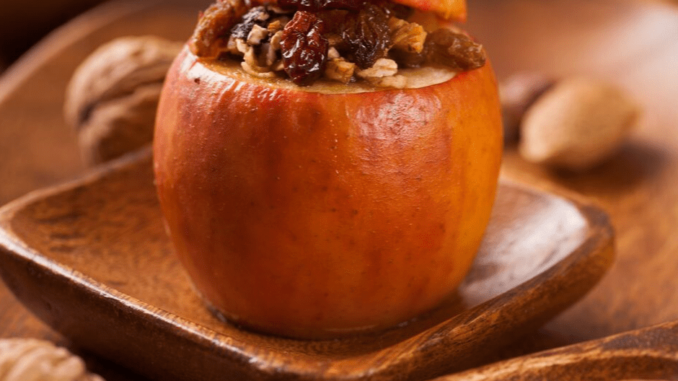 Autumn is here and that means foods and flavors that bring back memories. How many of you recall having a simple baked apple for dessert? With ice cream or cream, this is a simple classic recipe you'll enjoy.
Ingredients:
4 large baking apples – Pink Lady or Honey Crisp
¼ cup chopped nuts (walnuts, pecans or almonds)
2 tablespoons raisins or dried cranberries
2 tablespoons rolled oats
½ cup brown sugar
1 teaspoon cinnamon
1 teaspoon vanilla
4-5 tablespoons butter
Pinch of ground nutmeg
Pinch of salt
Tip: You can easily reduce the amount of sugar to suit your tastes.
Let's Bake!
Preheat the oven to 375 degrees F.
Wash the apples and remove half of the core (because you want the filling to stay in the apple and not fall through when it cooks)
In a small bowl mix the spices, nuts, and butter together.
Take a medium baking dish and fill with just enough water to cover the bottom of the dish.
Place the apples upright in the dish, closely together.
Fill the center of each of the apples with the butter, spice, nut mixture.
Bake for 45-60minutes until the apple is very soft and the filling is brown and thick and delicious.
This is an amazing dish to make for yourself and your family. Leftovers are easily reheated the next day!