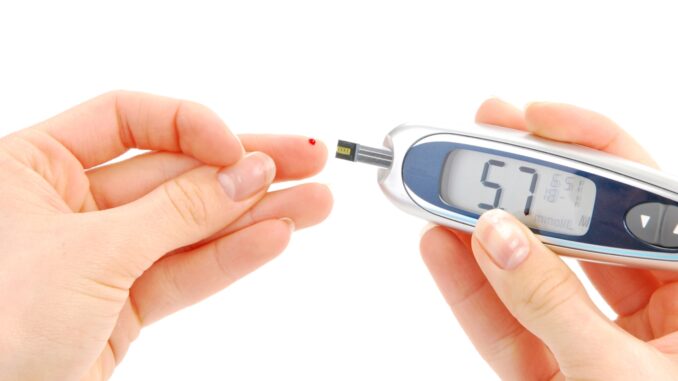 Januvia is the brand name of sitagliptin both in Canada and in the US.
According to the American Diabetes Association   in 2015 there were 30.3 million Americans with diabetes, adding up to 9.4% of the population.  Of the 30.3 million adults with diabetes, more than 25% were aged 65 and older.    Fortunately, combined with a healthy diet and exercise, new medications on the market can help those diagnosed with type 2 diabetes better manage their blood sugar and live healthier lives. 
Sitagliptin is known as Januvia® in both Canada and the US.

 

The active ingredient is sitagliptin phosphate.
Januvia® belongs to the group of medications called DDP-4 Inhibitors.    Your intestines release a hormone called incretin, which causes your pancreas to raise insulin levels when your blood sugar is high and decreases the amount of sugar (glucose) made by your liver when there is too much sugar in your blood.  When your blood glucose levels are too high that is known as type 2 diabetes.
A1C (also called hemoglobin A1C or HbA1c) is a blood test that measures your average blood sugar level over the last 2 to 3 months.  The American Diabetes Association recommends that A1C levels should be below 7%.  A1C goals, however, may be different for each person, so it is important to speak to your doctor about what your A1C goal should be.
Combined with other medications such as metformin, glimepiride or insulin, and with a healthy diet and exercise program, Januvia® can help treat high blood sugar levels caused by type 2 diabetes. This medicine does not help patients who have insulin-dependent or type 1 diabetes.
When taken without any other diabetes medication, Januvia®  is not likely to cause hypoglycemia (low sugar)because of how it works.  The main ingredient, sitagliptin phosphate, works more when your blood sugar is high and it works less when your blood sugar is low.   If you are taking another medication that can cause lower blood sugar, such as insulin or a sulfonylurea, there may be a risk for low blood sugar, so it is important to talk to your doctor and your pharmacist about what these medications do and how they can work together safely.
Januvia® is manufactured by Merck and comes in three different doses.
Januvia® can be taken with or without food.  Your doctor will want to do routine blood tests to ensure your kidneys are not negatively affected by your medication and to see how your blood sugar levels are, in case the dose needs to be adjusted.
Talk to your pharmacist to find out what to do if you miss a dose or if you are having negative side effects. Be sure to monitor your blood sugar as required by your doctor, and stick to your diet and exercise program as planned to help control your blood sugar.
If you are interested in taking Januvia® you may have questions for your doctor. Here are some things to consider:
Bring a list of your prescription medications, over-the-counter medications, supplements, and vitamins that you are currently taking.
Ask your doctor the following questions:

What are the possible side effects of Januvia®

Can Januvia® lower my A1C?

Can I take Januvia® with my prescription medications?
Thanks to medications like Januvia®, when combined with a healthy diet and exercise, type 2 diabetes can be better managed.  If you have questions about what prescription Januvia® can do for you, we would be happy to answer them.
Further information on Januvia can be found at the following link: Learn More
If you have questions about your prescription or non-prescription medication, please contact the team at Canada Online Health by calling toll free 1-800-399-DRUG (3784) or visit their website at https://www.canadaonlinehealth.ca. One of the friendly and discreet pharmacy representatives will be happy to answer your questions.
This article contains medical information provided to help you better understand this particular medical condition or process, and may contain information about medication often used as part of a treatment plan prescribed by a doctor.  It is not intended to be used as either a diagnosis or recommendation for treatment of your particular medical situation.  If you are unwell, concerned about your physical or mental state, or are experiencing symptoms you should speak with your doctor or primary health care provider. If you are in medical distress please contact emergency services (such as 911).