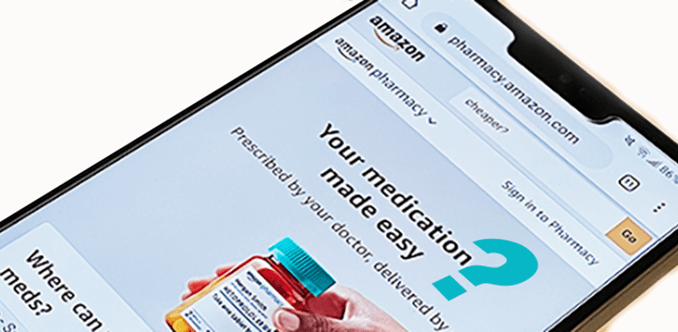 Amazon announced the launch of its Amazon Pharmacy service on Nov 17, 2020. Now, the company will sell prescription medications in the U.S.
It boasts that Amazon Prime members can save up to "80 percent off generic and 40 percent off brand name medications when paying without insurance."
Such savings sound big … but will they reduce prescription medications costs and provide convenient services for Americans? Here's what we found.
Can You Save Significantly from Amazon Pharmacy on Generics?
Walmart can provide a generic program which includes up to a 30-day supply for $4 and a 90-day supply for $10 of some covered generic medications at commonly prescribed dosages.
For example, generic Lipitor – atorvastatin (20 mg) to lower cholesterol is on Walmart's program list as well as the other generics.
It is $14.90 for 30-day supply for Prime customers from Amazon Pharmacy. The price from Costco with GoodRx coupon is $8.16.
We also checked this medication on Canadian pharmacy's website. It is obvious that the price of common generics is not their advantage.
Which One Is Cheaper on Brand Name Medications?
Other than generic medications, which face a lot of competition, prices for brand name medications and specialty medications are often set by how much the market will bear in the United States.
For instance, in the case of medications used to treat and prevent blood clots (i.e., Eliquis, Xarelto), the price of brand apixaban (Eliquis, 5 mg) is $509.81 for 60 tablets from Amazon Pharmacy.
The lowest GoodRx price for the most common version of Eliquis is around $494.40.
While the same medication (Eliquis, 5 mg) manufactured by the same pharmaceutical company is only $152.33 in Canada.
Here is another example. Brand tadalafil (Cialis, 5 mg) is not covered by most Medicare and insurance plans.
The price for Cialis of 30-day supply is $363.50 for Prime members. The lowest GoodRx price for the most common version of Cialis is around $356.38.
It is only $154.90 from licensed and certified Canadian Pharmacies.
Is Amazon Pharmacy a Game-Changer?
Amazon is a mail order pharmacy, which will allow customers in the United States to order prescription medications for home delivery. Meanwhile, it is just one more pharmacy to choose from, alongside Walgreens, CVS, and the like.
In the United states, medication prices are not regulated by any federal government agency. This makes it hard for pharmacies to break Big Pharma's hold on the pharmaceutical marketplace.
In reality, Amazon's pricing model doesn't offer much of a discount. It likely won't be a game-changer since it will work within the same system as other online pharmacies in the United States.
Is Amazon Pharmacy Convenient?
It seems that Amazon Pharmacy is not as much of a convenience as other online pharmacies:
As of today, Amazon Pharmacy does not currently sell to anyone under 18 years old.
It also only sells 30-day supplies, while other online pharmacies allow for 90-day supplies.
Only 45 states can place medication orders (excluding Hawaii, Illinois, Kentucky, Louisiana, and Minnesota).
Only Amazon Prime members receive free shipping; Amazon Prime membership fee is $12.99 per month; non-Prime members will incur shipping costs (usually $5.99 for two-day delivery).
Suspensions (e.g. liquid amoxicillin, fluconazole) are not available.
Specialty medications and compounded medications are not available.
What Else Do You Need to Know?
A new price comparison of leading brand name prescription medications finds that the online Canadian pharmacies are more affordable than Amazon Pharmacy, GoodRx or traditional U.S. pharmacies.
The new analysis released by the Campaign for Personal Prescription Importation (CPPI) found that prescription medications are 50% to 88% cheaper at licensed online Canadian pharmacies compared to Prime and coupon discount prices at U.S. pharmacy competitors.
Cheapomeds is certified by Canadian International Pharmacy Association. No hidden costs, no membership fees, just great savings on all your prescription needs.
Next time before you place order, especially on brand name medications, call them to see if they can match the price and help you keep more money in your pocket.
Related articles:
· Medicare Part D Prescription Plan Vs Canadian Medications
· Americans Find the Best Drug Prices at Online Canadian Pharmacies Over Amazon, Goodrx, Or Traditional Pharmacies!
· 2021 Drug Price Hikes of Up To 10% Expected to Drive More Americans To Rx Importation
· Generic Eliquis: Direct Oral Anticoagulant Offers Lower-Cost Alternatives
· How to Save Money on Your Prescription Medications
References:
Aarp.org
Thehealthy.com
Healthline.com
magazine.wharton.upenn.edu
prnewswire.com
This article is sponsored by CheapoMeds. If you have questions about your prescription medications or any other medication, please contact our team at CheapoMeds by calling toll free 1-844-4CHEAPO (424-3276). One of our patient representatives will be happy to assist you or transfer you to a licensed Canadian pharmacist for a free consultation.
This article contains medical information provided to help you better understand this medical condition or process and may contain information about medication often used as part of a treatment plan prescribed by a doctor. It is not intended to be used as either a diagnosis or recommendation for treatment of your medical situation. If you are unwell, concerned about your physical or mental state, or are experiencing symptoms you should speak with your doctor or primary health care provider. If you are in medical distress, please contact emergency services (such as 911).