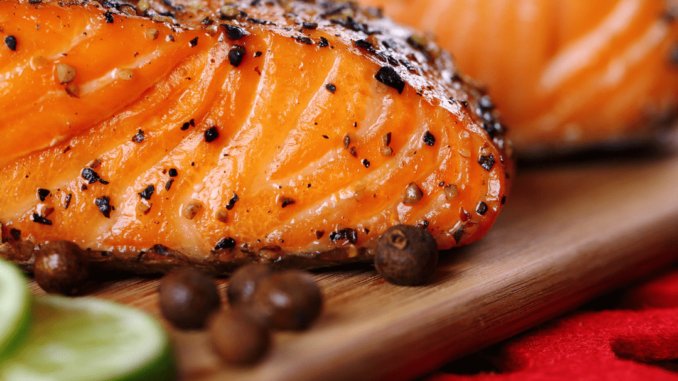 Why salmon? Besides the fact that salmon is loaded with healthy Omega-3 fatty acids and is a heart-healthy choice, salmon is a delicious tender fish that stays together on the grill and it is so delicious! While salmon is, of course, delicious with a simple squeeze of lemon, pepper and sea salt, we've come up with a terrific salmon idea that you are going to love to share with your family and friends.
Chili-Lime Grilled Salmon
For this recipe we recommend you turn the heat down to medium on your grill so you do not burn your rub on the outside of the fish, and you keep it nice and juicy.
Ingredients:
4-6 large salmon filets – skin on.
Juice of half a lime
3 cloves of garlic – minced fine
½ teaspoon of chili powder
¼ teaspoon cumin powder
¼ teaspoon salt
¼ teaspoon black pepper
½ teaspoon sugar
¼ teaspoon ground coriander
1 tablespoon vegetable or olive oil
Let's Grill!
Heat your grill and oil the grill well just before you put the fish on.
Rinse your salmon filets with water and pat them dry.
Mix all of the spices, oil, garlic and lime together in a small bowl.
Place the salmon filets in a bowl and pour mixture over the salmon, coating well.
When the grill is hot, place the salmon on the grill skin side down. You do not need to turn the salmon over at any point.
Cook the salmon for approximately 15-20 minutes depending on the thickness of the salmon.
This salmon is full of flavor, so we recommend you balance the rich and spicy flavors with something cool and crisp, like mango salsa and a perfect spinach citrus salad.
Kick it up a notch with Mango Salsa!
Of course salmon loves mango salsa, so we're sharing one of our favorite recipes ever. It's fast, it's easy, and it goes great with salmon!
Ingredients:
½ medium red onion diced finely
½ cup freshly chopped cilantro
1 large mango, peeled and diced into very small cubes
4 tablespoons of fresh lime juice
¼ teaspoon salt
1 teaspoon olive oil
2 tablespoons of red bell pepper, diced very fine
½ cup cucumber, peeled and diced fine
Mix all of the ingredients together in a bowl, stir, and refrigerate for at least 2 hours to let the flavors mix.