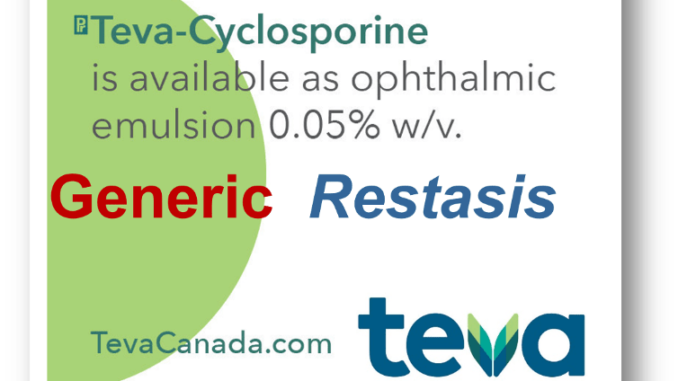 May 2018, Teva Canada Limited, a subsidiary of Teva Pharmaceutical Industries Ltd., announced the launch of Teva-Cyclosporine® ophthalmic emulsion, 0.05% w/v, a Health Canada approved twice-daily eye drop solution and the first generic version of Restasis® (cyclosporine) in Canada. 
Cyclosporine ophthalmic emulsion is indicated for the treatment of moderate to moderately severe aqueous deficient dry eye disease, characterized by moderate to moderately severe: ocular staining, reduction in tear production and fluctuating visual symptoms, such as blurred vision. 
symptoms, such as blurred vision.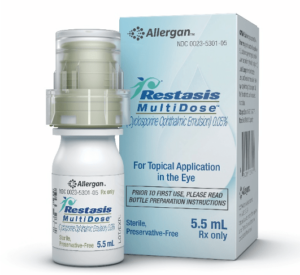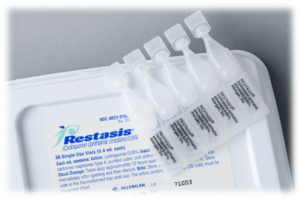 November 2010, Health Canada has approved cyclosporine (Restasis) ophthalmic emulsion, 0.05% w/v for the treatment of moderate to moderately severe Dry Eye disease (dry eye). 
          Cyclosporine 
          0.05% w/v 
         02462486 
         Anti-Inflammatory/Immunomodulator 
          Ophthalmics  
         Ampoule, 0.4 mL 
         70840-0004 
         68510178312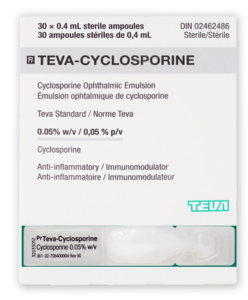 Teva-Cyclosporine is available to pharmacies across Canada. 
Was this article helpful? Other related articles: 
What is the difference between prescription generic medications and brand name medications? 
How to save money on prescription medications 
If you have questions about your prescription medications or any other medication, please contact our team at Canada Online Health by calling toll free 1-800-399-DRUG (3784). One of our patient representatives will be happy to assist you or transfer you to a licensed Canadian pharmacist for a free consultation. 
This article contains medical information provided to help you better understand this particular medical condition or process, and may contain information about medication often used as part of a treatment plan prescribed by a doctor.  It is not intended to be used as either a diagnosis or recommendation for treatment of your particular medical situation.  If you are unwell, concerned about your physical or mental state, or are experiencing symptoms you should speak with your doctor or primary health care provider. If you are in medical distress please contact emergency services (such as 911). 
Reference: