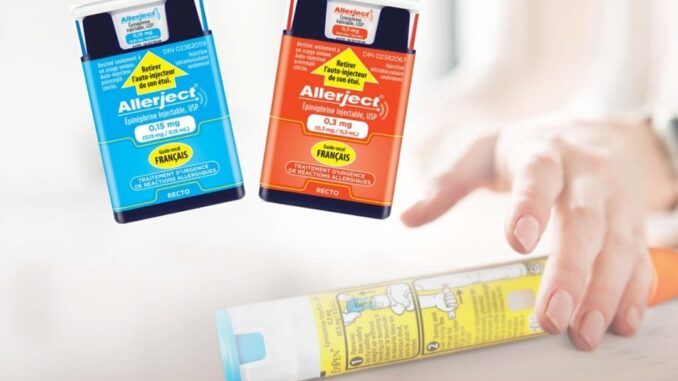 ​​The compact Allerject epinephrine auto-injector used to treat emergency anaphylaxis will relaunch across the Canada as of May 19, 2020, the US-based pharmaceutical maker Kaléo has announced.
What Is Epinephrine?
Epinephrine is the medication form of a hormone (adrenaline) that the body produces on its own.
If you or your kids have been diagnosed with food, medication and stinging insect allergies, your doctor or allergist will prescribe an epinephrine auto-injector which can be used by the patient, parent, teacher, school nurse, or any bystander.
The injection is given in the thigh and can even be given through clothing. Keeping this medication on hand is the only life-saving option. It works by stopping the airway from swelling, it allows you to continue breathing.
What Is Allerject?
Allerject, known as Auvi-Q in the United States, was originally licensed in Canada and the U.S to Sanofi, but was voluntarily pulled from the market in 2015 because of manufacturing and dosing issues.
Kaléo bought back the rights in 2016, the issues were resolved, and the product was approved by the U.S. Food and Drug Administration in 2017. It has now been reintroduced in Canada.
What Epinephrine Devices Are Currently Available?
There are several different epinephrine auto-injectors available.
Mylan EpiPen, EpiPen Jr and Mylan generic, Teva generic
Kaleo Auvi-Q in the United States
Allerject in Canada
Amedra Adrenaclick and Amneal generic
SYMJEPI from Sandoz (a Novartis division)
Windgap Medical Inc's ANDIPen
Medeca Pharma's Emerade
What Is the Difference Between Epipen And Allerject? Are They Interchangeable?
The medication in all auto-injector products is the same, epinephrine.
EpiPen was initially approved in 1989. Pfizer picked up the EpiPen when it bought King Pharmaceuticals in 2010. Mylan, at the time, had marketing rights to the dispenser, rights it still holds. EpiPen has faced major production shortages since late 2017, when the FDA found serious issues at the Pfizer plant where the auto-injectors are made.
According to product instructions, the 0.30 mg dosage of both the EpiPen and Allerject auto-injectors should be used for adults and children weighing 30 kg or more (66 lbs+); and the 0.15 mg dosage should be used for children weighing between 15 kg to 30 kg (33-66 lbs).
In some cases, the pharmacist will need to call your healthcare professional to confirm that the switch is acceptable.
Allerject differs from the EpiPen in that it has a retractable needle and an electronic voice instruction system to guide users through each step of the injection.
Compare prices with Allerject and Epipen (product of UK) and see the cost savings!
Reference:
drugs.com
foodallergycandada.ca
epipen.ca
fiercepharma.com
cdha.nshealth.ca