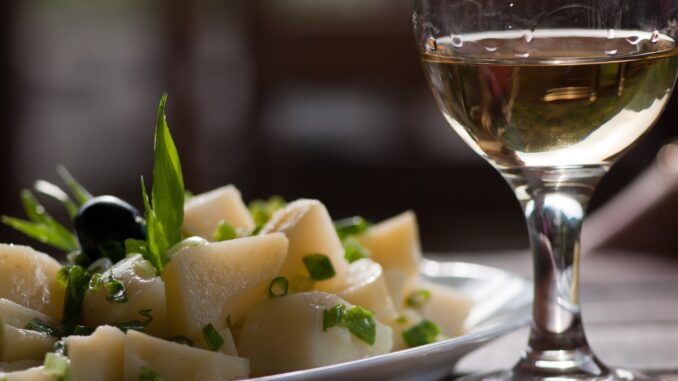 Ever go to a barbecue and see it – the plain potato salad sitting there, looking a little dated and underappreciated?  Well, that's not how we cook things around here! We're all about living life to the fullest, and with a healthy twist!  So, we had our resident chef create our Fiesta Potato Salad just for you!  You will want to share this one with your family and friends.   By the way, this recipe goes perfectly with our Mushroom Sage Turkey Burger recipe!
The mixture of colors in this potato salad will make this bowl the star attraction on any summer table! This recipe is best served a little warm, but cold is just as delicious! This is also ideal for taking on picnics because it doesn't contain any mayonnaise which can go bad quickly if left out in the warm summer sun.
Ingredients:
2 pounds of colored baby potatoes – purple, white and red.
10 cups water – to boil the potatoes
¼ cup extra-virgin olive oil
3 tablespoons red wine vinegar
3 teaspoons Dijon mustard – we prefer grainy Dijon, but creamy is good too.
3 cloves minced garlic
½ teaspoon kosher salt
¼ teaspoon black pepper
¼ cup Italian parsley, chopped fresh
½ small red onion, diced
3 cups fresh chopped arugula
Let's Cook
Add the 10 cups of water and the potatoes to a large pot and bring to a boil. Cook 10 minutes on medium heat until the potatoes are tender when poked with a fork.
Drain the potatoes and let them cool until they are barely warm. Cut the potatoes in half or quarters, depending on the size of the potatoes.
In a large bowl mix all the spices, olive oil, mustard, garlic, and onions together.
Add the potatoes to the bowl and gently toss together. When they are coated, add the arugula and gently toss to dress the arugula.