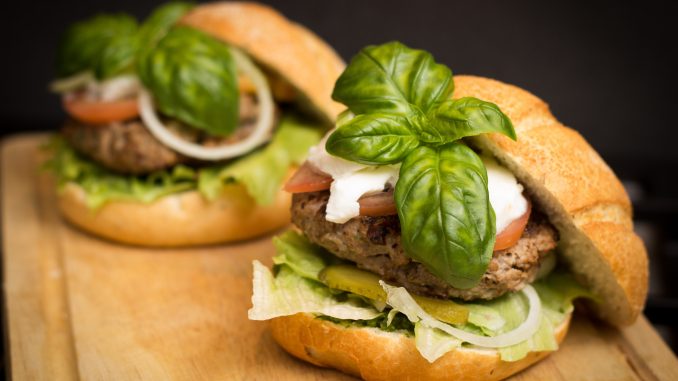 FACT: Most people believe that a turkey burger is naturally lower in fat, but the fact is it is only very lean if your turkey burger is made from ground turkey breast. Unless it is specified on the package, there is a good chance your ground turkey is a mixture of dark meat, white meat and skin.
A four ounce turkey burger made from both dark and white meat has approximately 193 calories, 11 grams of fat , 3 grams of saturated fat, and 22 grams of protein.
A four ounce turkey burger made from 100% white meat has approximately 150 calories, 1.5 grams of fat and 0 grams of saturated fat.
A four ounce lean beef burger (made from 90% lean ground beef) has approximately 225 calories, 12 grams of fat, 5 grams of saturated fat, and 27 grams of protein.
Mushroom Sage Turkey Burgers
Because pure ground turkey breast is so lean, it may be a bit dry, so we're taking advantage of the moisture from these mushrooms, not to mention their flavor, to make the most amazing turkey burgers ever!  We kept these burgers on the low-carb side by not adding any breadcrumbs to the mixture.  These burgers go great with our Fiesta Potato Salad recipe!
Ingredients
1.5 pounds ground turkey breast
1.5 cups finely chopped Portobello mushrooms
1 tablespoon ground sage
2 cloves garlic, finely minced
¾ teaspoon salt
½ teaspoon pepper
½ teaspoon onion powder
Let's Cook!
Mix all of the spices together in a large bowl.
Add the turkey and mushrooms and mix well. TIP: Never over-mix meat patties. It makes them tough!
Divide the mixture into 4-6 patties, depending on how thick you like them.
Grill on the barbecue for approximately 8 minutes, checking for doneness.
Transfer to a rack or serving plate and get ready to eat!
Let's Top Those Burgers!
Of course, everyone enjoys lettuce, tomatoes and onions on their burgers, along with the ketchup, mustard, relish and all the traditional toppings. But for a turkey burger you may want to think outside the box and try something new! Try any one or a combination of these interesting toppings
Cranberry sauce
Caramelized onions
Brie
Smoked gouda
Onion jams
Pickled pepper rings
Arugula
Whatever combination you choose, we know you'll have a great summer barbecue!