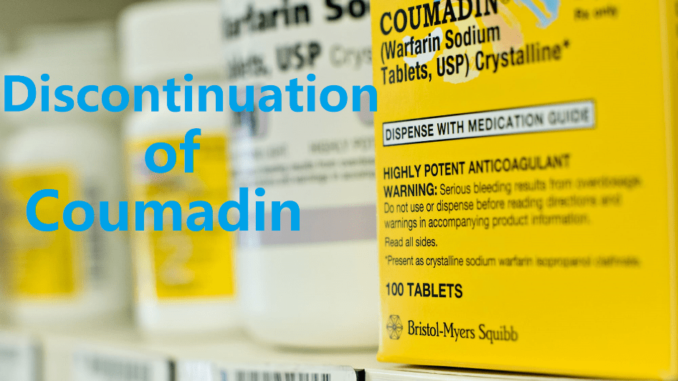 Bristol-Myers Squibb announced that the sale and distribution of all strengths of Coumadin (Warfarin Sodium) tablets will be discontinued in the United States, Canada, Latin America, and Saudi Arabia, due to an unexpected manufacturing issue. It will begin on June 1, 2020 . Original source: https://www.bms.com/assets/bms/ca/documents/productmonograph/CANADA-Coumadin-deletion_D-HCP-Communication_FINAL_EN_04.23.2020.pdf

COUMADIN (warfarin sodium) is a prescription medication that interferes with normal blood clotting (coagulation). It is also called an anticoagulant.
Millions of people depend on anticoagulants – also known as "blood thinners" – to prevent life-threatening blood clots. While these medications do not actually "thin" the blood, they do slow the body's ability to form dangerous blood clots, such as blood clots in the arms or legs (deep vein thrombosis or DVT) and blood clots in the lungs (pulmonary embolism or PE).

Stopping blood thinners can increase your risk for blood clots, due to the underlying risk factor(s) for which your blood thinner was originally prescribed. These bleeding and clotting risks can be complicated for your healthcare providers to manage.
For patients currently using Coumadin® (warfarin sodium) tablets, healthcare providers will be required to consider alternatives. Prescribing an alternate product is the clinical decision of the healthcare professional in consultation with the patient.
The generic version of Coumadin® is one option. Even though generic warfarin and brand name Coumadin® are considered interchangeable, your health care provider may want you to have your levels checked when making a change like this. Therefore, it is important to have this discussion with your healthcare team.
In Canada, therapeutic alternatives, including generics, are available. Please check the following information.
Generic Product
Brand name in the US: Coumadin
Generic name: Warfarin Sodium
Product of Canada – Manufactured by various generic manufacturers
Strengths: 1mg, 2mg, 2.5mg, 3mg, 4mg, 5mg, 6mg, 7mg, 7.5mg, 10mg
Dosage form: Tablet
This article is sponsored by CheapoMeds. If you have questions about your prescription medications or any other medication, please contact our team at CheapoMeds by calling toll free 1-844-4CHEAPO (424-3276). One of our patient representatives will be happy to assist you or transfer you to a licensed Canadian pharmacist for a free consultation.
This article contains medical information provided to help you better understand this particular medical condition or process, and may contain information about medication often used as part of a treatment plan prescribed by a doctor. It is not intended to be used as either a diagnosis or recommendation for treatment of your particular medical situation. If you are unwell, concerned about your physical or mental state, or are experiencing symptoms you should speak with your doctor or primary health care provider. If you are in medical distress please contact emergency services (such as 911).
Reference: